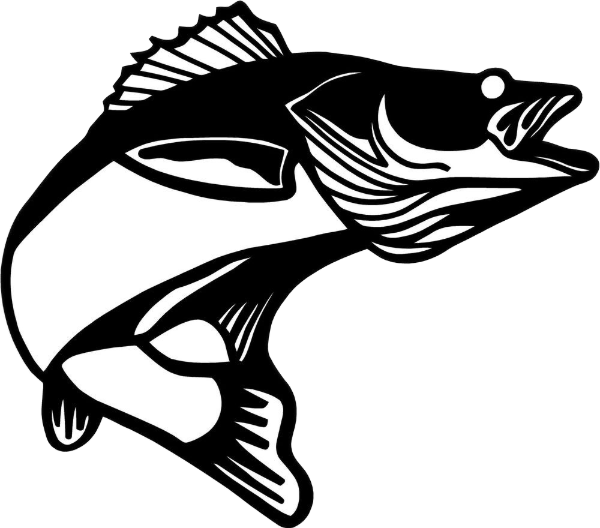 Past Events 2023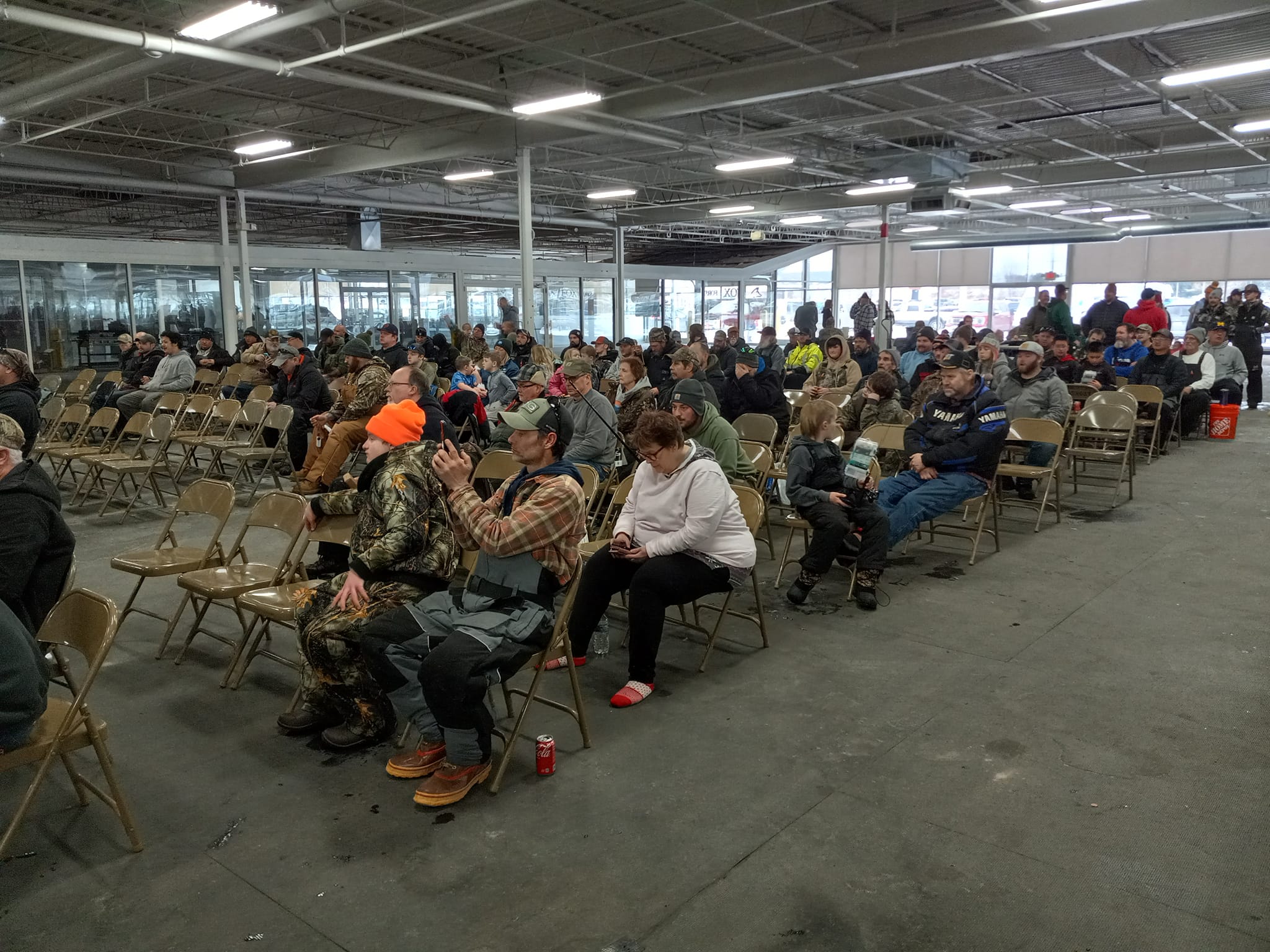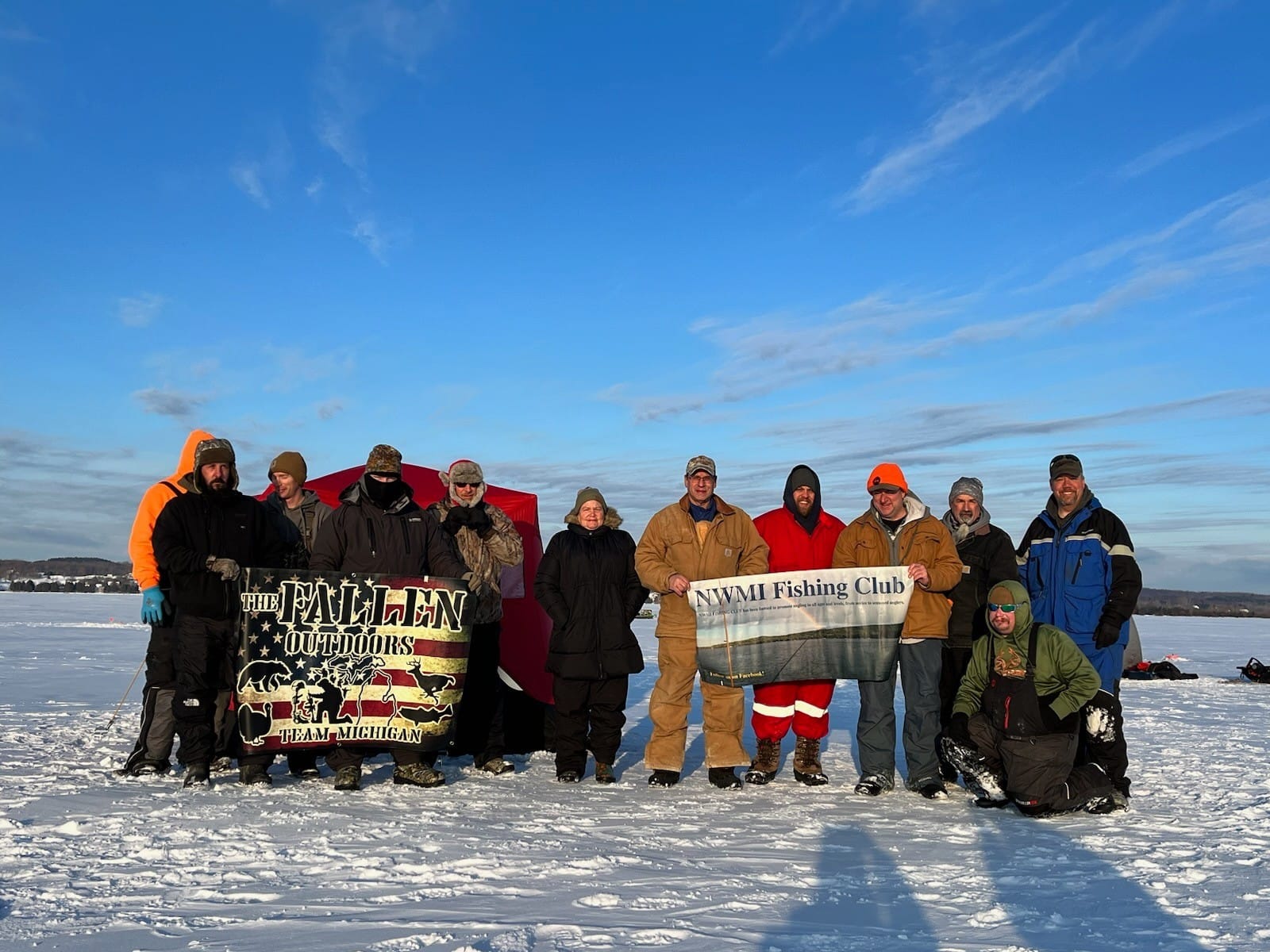 Tough morning on South Lake Leelanau - Bingham Launch. We had great ice, six inches, and great walking. The only fish we were able to catch were three ciscoes but that didn't spoil our day. Lots of great guys came out today from areas ranging from Manton to South Carolina. Several rookie ice fishermen.
Big Thanks to Dennis at Bucs Bait and Greg Alsip at Narrows Bait in Lake Leelanau for the free Bait for the Veterans! Thanks to all the volunteers as well. It was great teamwork today setting up and tearing down.
Today the Club was able to be part of the North American Snow Festival Ice Fishing Contest in Cadillac, we patiently waited at the Fox Ford dealership for the contestants to come in the weigh and get a length of their catch. We grilled hot dogs and served with chips and a beverage, it was great to have such a support group of Club volunteers to assist. Thank you
Theo Weber
December Lee
Dave Chevalier
Chuck Russo
John Truchan
Carol Truchan
Tim Hossack
Mike Radcliffe
And Thanks N.A.S.F. as well as Fox Ford, and Pilgrims Village for putting on such a great community event where everyone went home with a prize.

Copyright /© 2020-2023 NWMIFishingClub
Updated 9/6/2023
Contact Us
Contact WebMaster
2023 North American Snow Festival Ice Fishing Contest in Cadillac
Veteran's Winter 2023 Ice Fishing Event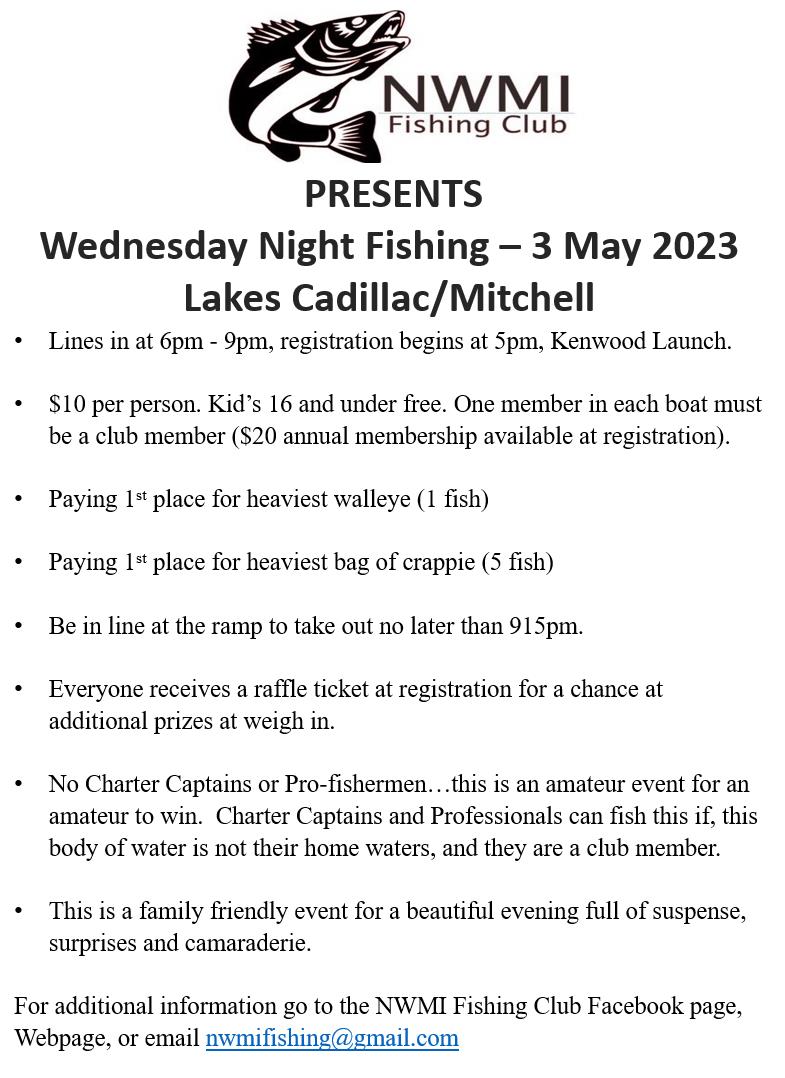 It took real monsters to win this contest on Lakes Cadillac and Mitchell. These monsters put up a great struggle but finally got those fish to the boat.

Congratulations to "Team Little Hooker" (Mark Tonello and Eric Schrouder). These were $60 fish and they were the only fish caught.

15 contestants, 5 new members, (plus 1 new member online), a quick raffle prize giveaway (thanks Spanky), and away we go.

Leland next Wednesday. Get your laker gear warmed up.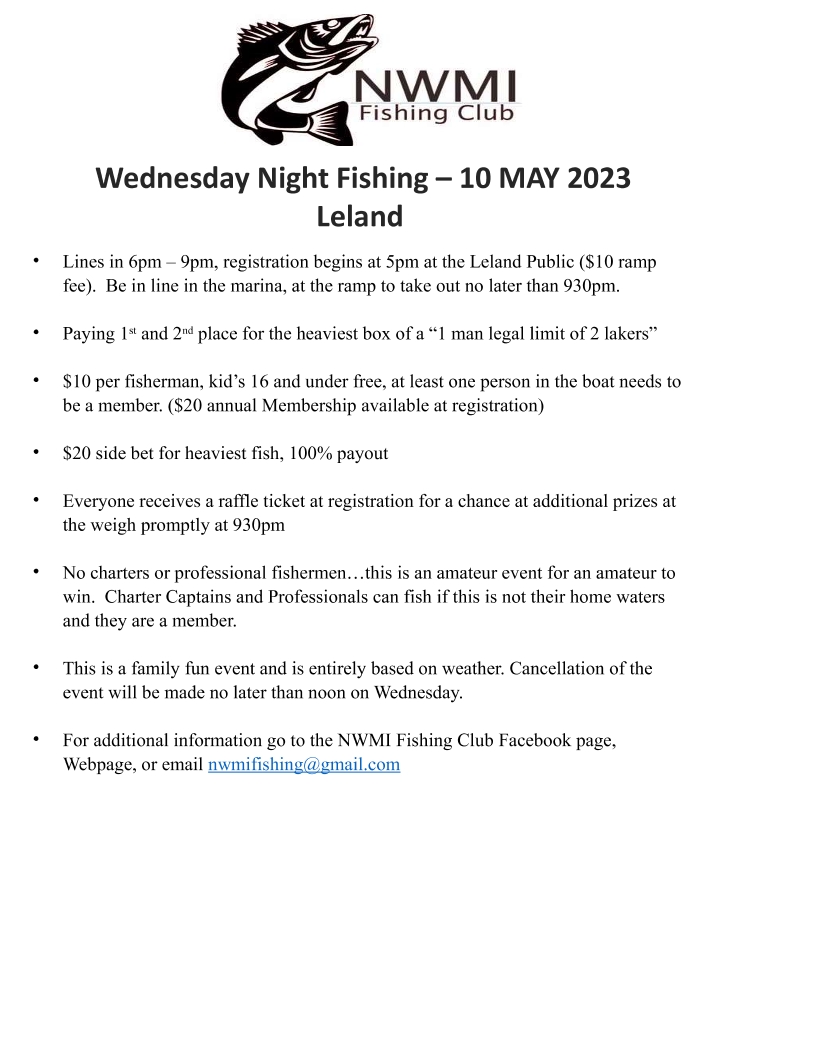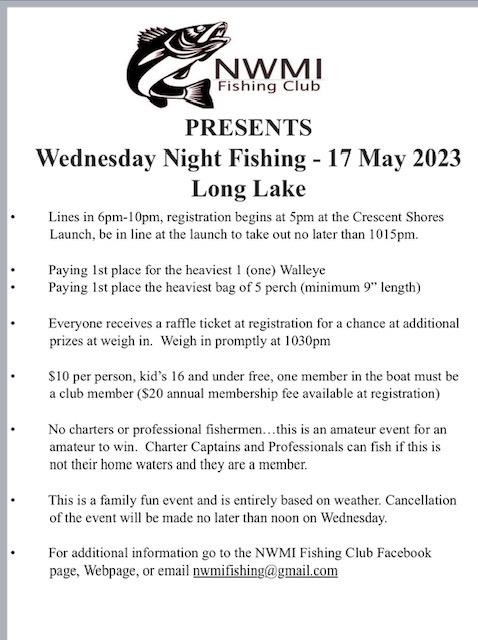 Last Night was a big night up in Leland. Huge fish were caught.
We had boats from all points in the state. 37 anglers, 16 boats of all sizes and shapes including river drift boats.
Great times were had by all. Kids as young as 10 and guys like me as old as time itself.
Come over to the NWMi Members Only page for details.
Forgive us for some poor picture quality, some pics turned out great, so please look at them all.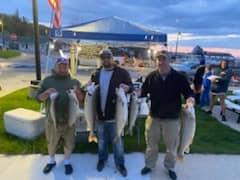 Back to the deep blue this coming week people. Read these details. Everything you need to know, and some extras, that you probably already knew about, but you keep those secret guilty pleasures to yourself.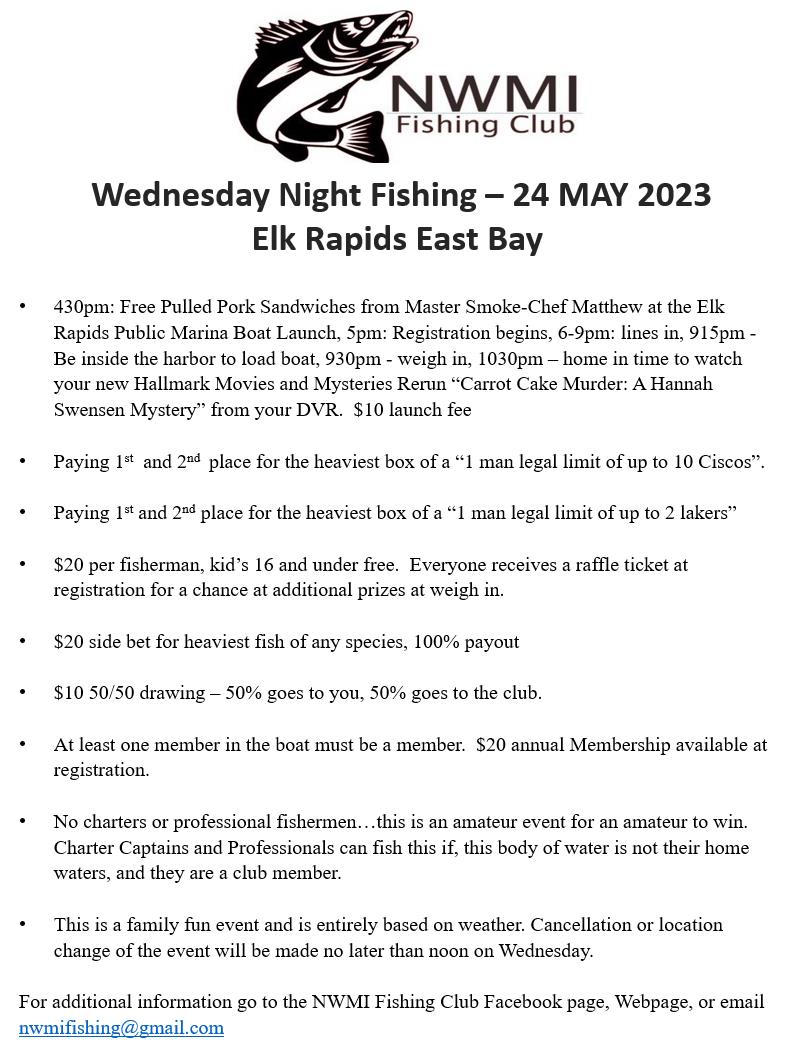 Our Wednesday Nighter last night on Long Lake was a nail biter right down to the last weigh in.

28 anglers, 11 boats and 3 kayaks gritted teeth and braved the cold (32° when I got home). The Northeast wind was pretty stout until about 830 but then calmed down.

Out of 14 boats on the water, more than half did not weigh fish (8). Some of these caught short fish or the wrong species (bass and pike), but not the target.

Team "Still Jerkin" was in the money for the 2nd week in a row with 1.15lb perch for $112.00. This proves they are always dialed in and are a multi species powerhouse on whatever body of water they are on.

Team 45th Outdoors won the walleye division with a 5.10lb beauty and they took home $112 for that fish as well.

Overall, it seemed like slip bobbers were the predominant ticket. Casting crank baits paid off for bigger fish, but most success came from live bait under bobbers. Us trollers couldn't catch any size and the big pike were hungry as well.

But the real winners were the teams that weren't in the money. We had a Mom/Son team, a Father/Son team, and two Husband/Wife teams competing last night. That was fantastic to see and I was pulling for any of them to bring in the big lucky fish.

It was good to see returning anglers that can't hit a lot of events and the long distance travelers as well.

1 new member and 1 renewal is always a gokd thing.

Next week we are back to deep water on East Bay (out of Elk Rapids for our first time). Get your cisco and laker tackle ready!