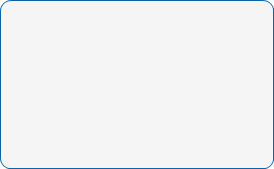 NWMI Fishing Club

Past Events 2022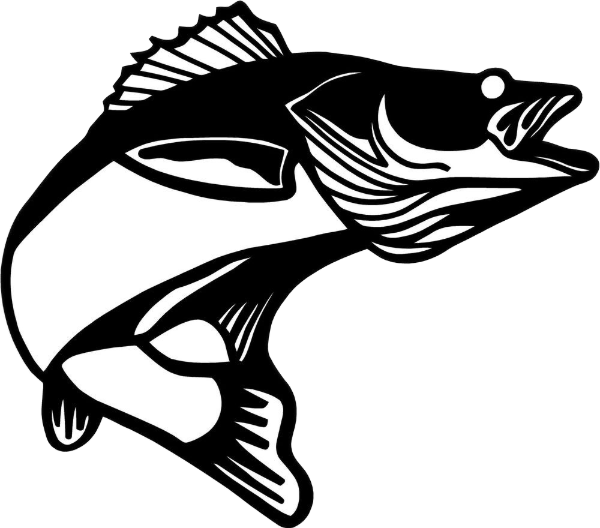 Copyright © 2020 - 2022 NWMIFishingClub
Updated 8/8//2022
Contact Us
Contact WebMaster

Hello all, if you have fished for salmon in East or West Grand Traverse Bay and want to be able to claim you are a giver, not a taker, now is your time.

The NWMI Fishing Club has used much of their membership fees, weekly Fishing contest revenue, and our donated money to repair and emplace the salmon pen nets and feeders for the Boardman River. We are looking to recover that money we have spent and you can help. This request applies to weekend anglers such as ourselves and Charter Boat Captains and fishermen statewide.

We have DNR Coded Wire Tag data that proves a 3%-4% return of spawning salmon if they are acclimated with the river pen nets. It's only a 1% return rate just dumping them into the river. If you put that "return percentage" on the upcoming stocking of 75,000 salmon in May 2022 , we can expect 3,000 fish return with the use of pen nets versus 750 without in August/September 2025/26.

Please go to the NWMI Fishing Clubs website homepage to the "PayPal Donate Button" and donate to our general fund and help us recoup some our expenses, and Thank you.
Well, conditions could have been worse, and today wasn't easy. We could have had slush and thin ice, but we didn't. We had high winds and 5" of sideways snow all day and that kept us buttoned up in 12 shanties. The Silver Lake pike only cooperated 3 times all day with 2 hit and runs.

Anyway, this was the biggest veteran turnout of all of our winter outings, with a lot of family members. The previous Long Lake, Duck Lake, Lake Skegemog, were all better weather, but that didn't affect the participation today.

By my count, we had 12 veterans with many family members and friends from North Carolina, local region and Saginaw as well. A total of right around 30 people seems about right.

A big thanks to Bucs Bait for large amounts of sucker chubs, perch minnows and waxworms. They are always a consistent donator who routinely support our local fishing club and ever TFO event we have helped with. Thanks Buc's Bait.

A special thank you to Maxine and Matt Marciniak for hosting this thing, Matt Cobb and family for all the labor of setting up and taking down as well. Lunch was on target and really hit the spot.

Thanks to all the vets for their service, their sacrifices, and their eagerness to brave the storm. Great memories were created today.

Next event is The 6th Annual Interlochness tournament in February.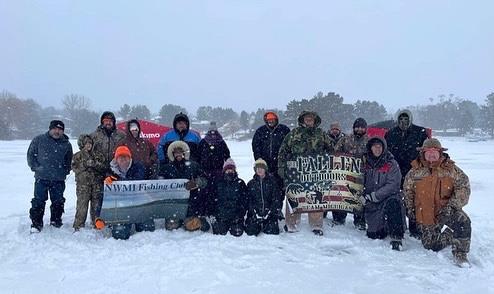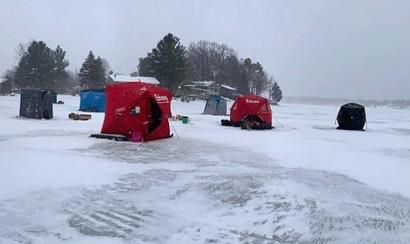 Today, 16 March 2022, we started welding reinforcing pieces and attaching extruded aluminum caging. This project is moving right
along thanks to Theo Weber and Nick Wyskochil!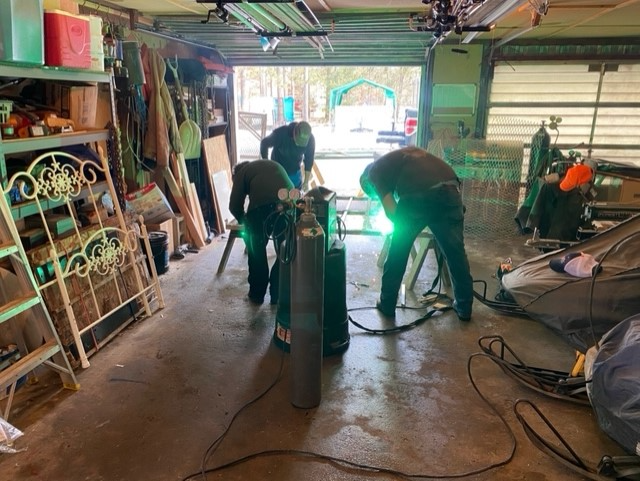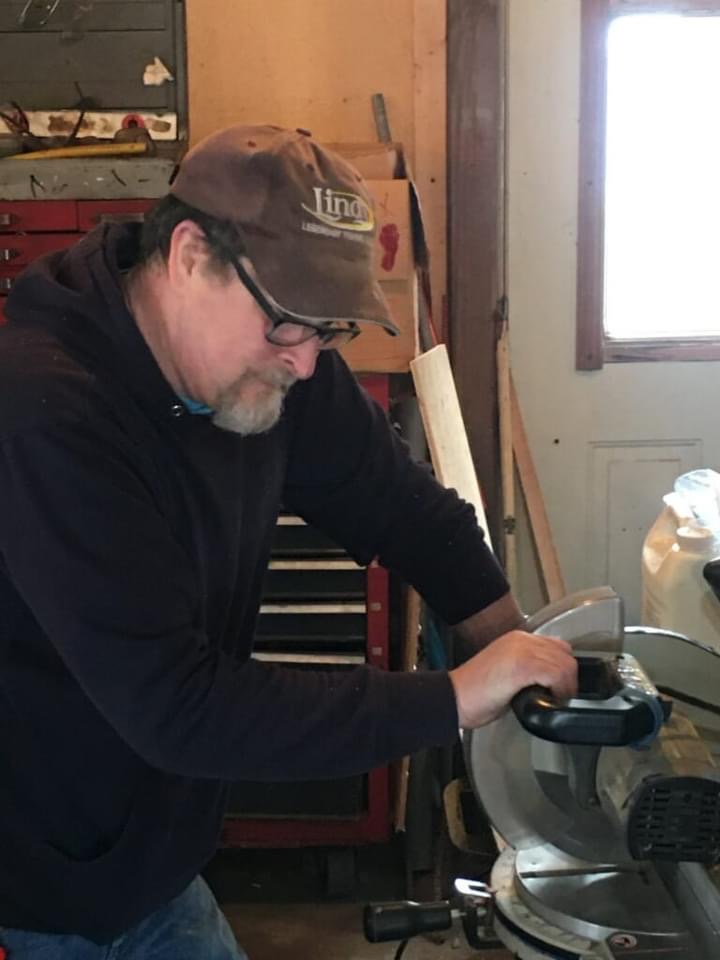 The salmon pen net refurbishment project is well underway as of today 03MAR2022. We are on track for a May emplacement into the Boardman.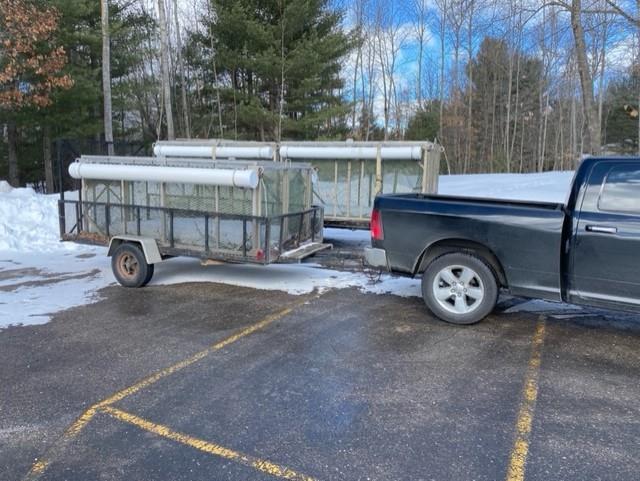 We wanted to give a special thank you to all who contributed to the Salmon Net Pen Project. We are well underway on bringing back a fishery that we can all be proud of. Without Net Pens, this would not happen. Without donations, this would not happen.

First, Pat Cole has been the driving-force provider of the Net Pens and repairs, trailers, anchoring work, permits and crane rental. Thanks Pat big time.

Some local Charter Boys and even our most dedicated weekend anglers deserve a big thank you as well. John Long, Noah Falk, AJ Hallfrisch, John Vandusen, Adam Collett, Brady Anderson, Cameron Garst, Eian Richards, Mike Steffes, Brian Moore and Tom Marek. Without these true givers, the salmon fishery would continue to decline.

The Salmon Net Pen project is not going away. This will be a continued suck of money and time for annual maintenance, crane fees, and permit fees. The battle never ends. Please encourage your friends family, and acquaintences who enjoy salmon fishing up and down the coast to donate.

Thanks all!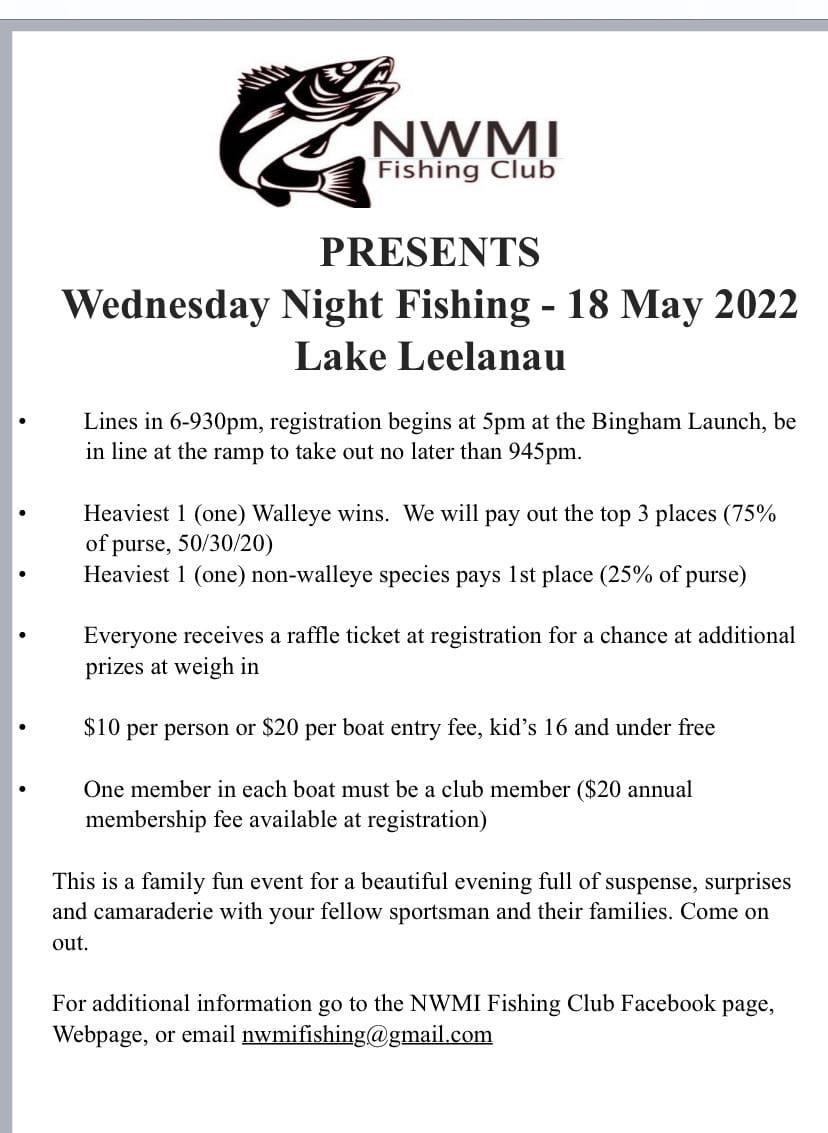 Last night on Long Lake saw a couple nice bags of fish and a couple dandy walleyes. We had a beautiful night, with calm and hot conditions and it really brought out a great group, starting with 2 new members, 25 total anglers in 12 boats competing. Muskie and big bass sitings were also reported. Here are the winners and payouts.

1st place walleye, 3.15lbs caught by Team Nick Wyskochil, Jason Verstrat, and Josh Hetfield. $67

2nd place walleye, 2.05lbs caught by Team Oossee (David, Chris, and Alex). $40

3rd place Walleye, 1.80lbs caught by Team Matt Johnson, Tyler Schmidt, and Hunter Rose. $27

1st place non-walleye, 4.40lb pike caught by Team Chris and Cody Huttenga. $44.50

Next Wednesday, 18 May, is Lake Leelanau. Same contest format, same time frame.

Come on out!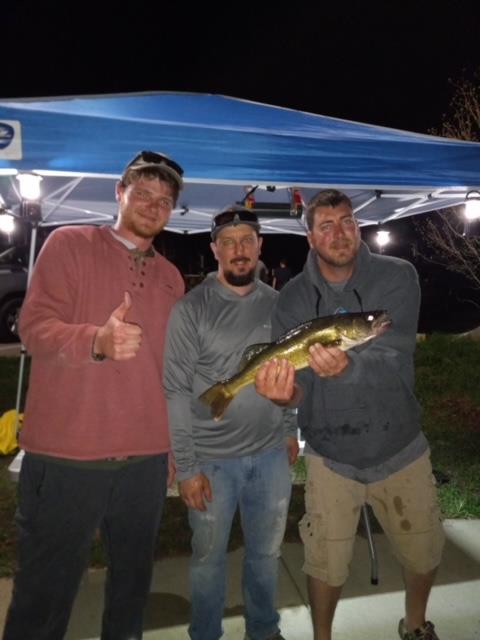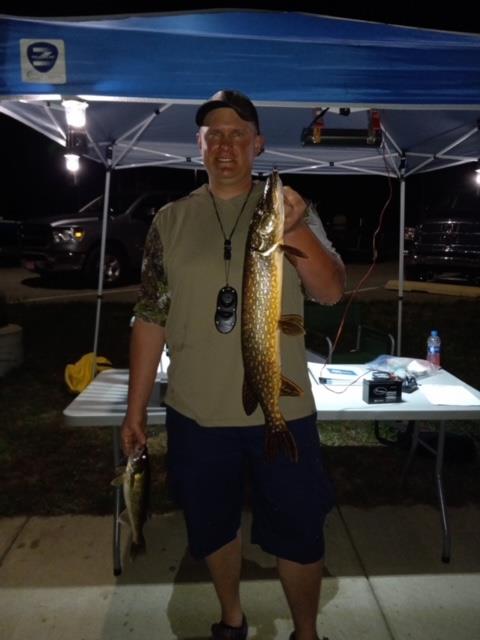 A beautiful night on Lake Leelanau last night (Wednesday, 18MAY). Not only did the weather turn out great, but the fisherman did as well. (26 in 12 boats).

1st place walleye went to Chris and Dave with a 2.70lber. $82.87

2nd place went to Matt, December, and John with a 1.85lber. $49.72

3rd place walleye went to Team Twisted Dipsy with a 1.45lber. $33

For the non-walleye big fish, a nice 5.4lb pike went to Adam Gustafson. $55.25

One new member was added to the club roster as well.

Thanks for the great turn out and we look forward to next Wednesday Night on East Bay out of the Center Road launch.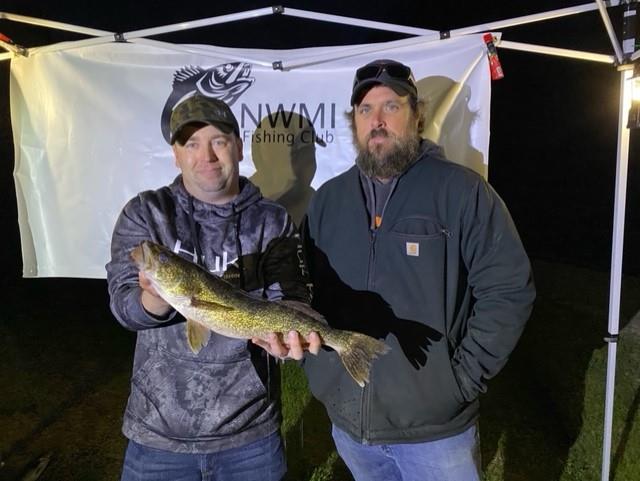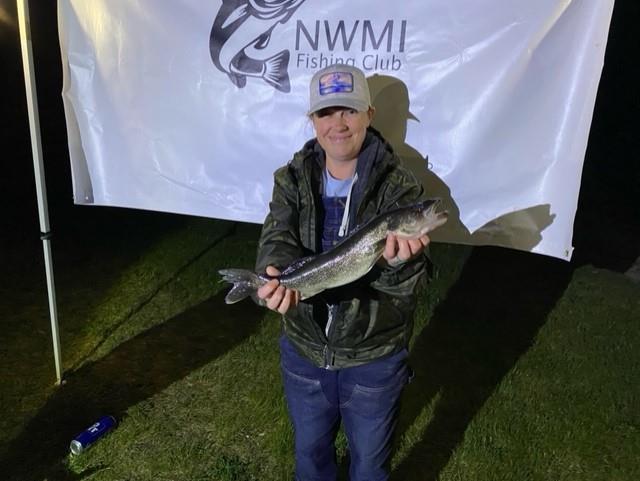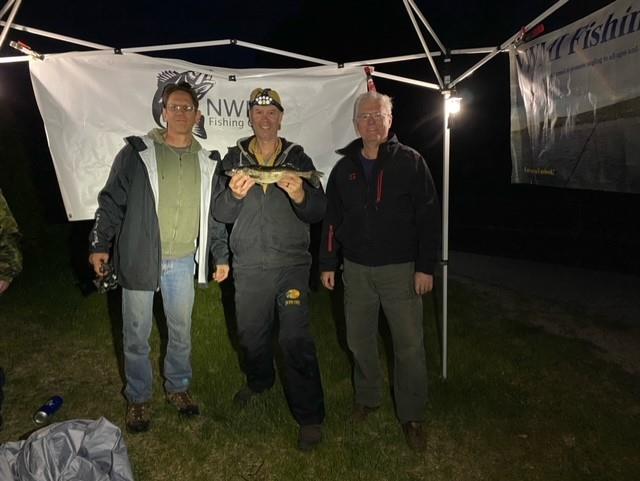 All, it doesn't look like we are going to miss out on the wind and rain tonight. We are cancelling the East Bay contest tonight.

This Saturday morning is Cisco In The Crisco. Weather looks calm and warm for that one. Come on out and fish and have lunch.

See you on Saturday.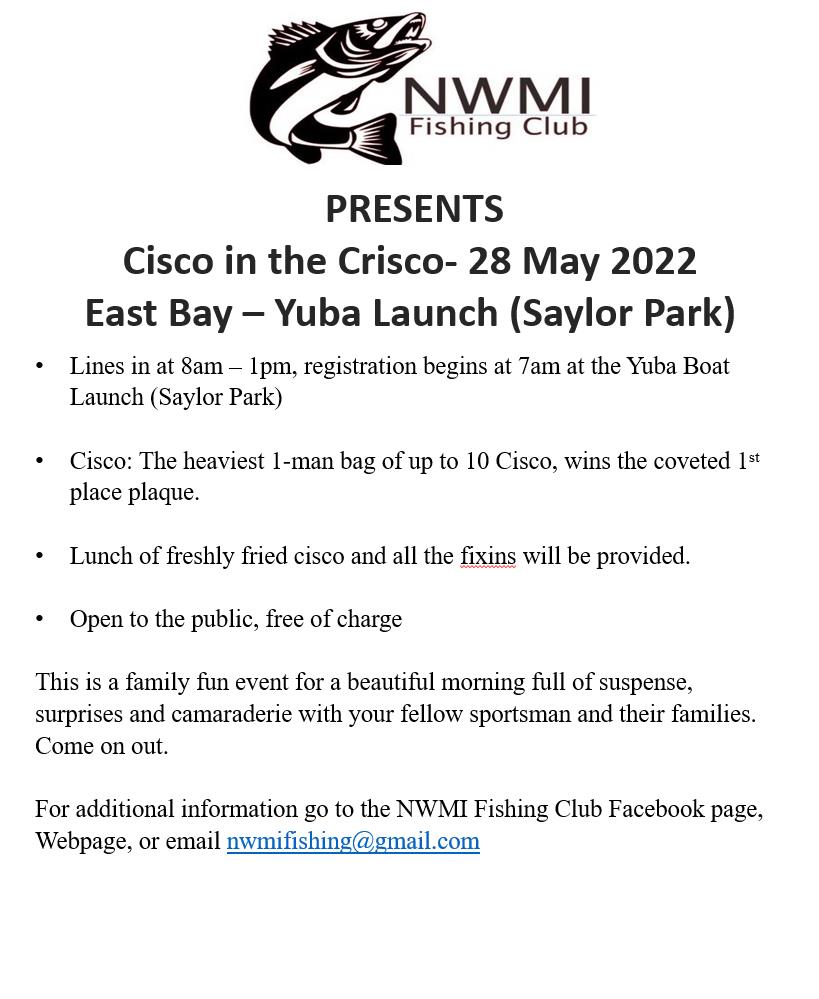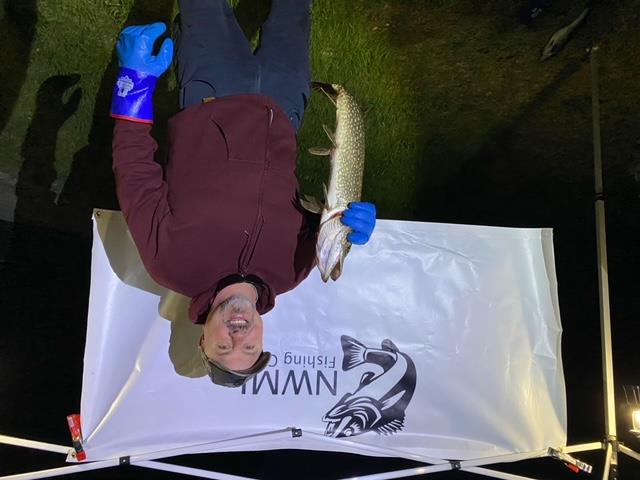 Cisco In The Crisco was perfect today. Calm and eventually warm as predicted. 13 boats and 27 people competed. 47 cisco were weighed in, but the boats that were on fire could have weighed in a lot more. Most of the fleet had a hard time finding the pods of fish, or they found them and could not get the bite. Anyway, the winners:

1st Place went to Brandon Aeshilman and Austin Scott with 21.90 lbs.

2nd Place went to Dave Egeler and Cody VanDonkelaar with a close 21.70 lbs.

3rd Place went to a very observant Dave Acha with 20.50 lbs.

Great shore lunch provided by volunteers from Lume Cannabis Company (Matt and Andrew). Both batches of cisco (Cajun and Crispy) were great.

Thanks to U&I Lounge for sponsoring and the prizes for our our raffle.

Sean Brunetti and Terry Ullman won the baitcaster combo raffles as well.

See you all again in the Fall for the Veteran's Invitational Cisco In The Crisco (17 September 2022).

We are taking a well deserved break this coming Wednesday night, but will see you all on Platte

Lake on the 8th of June.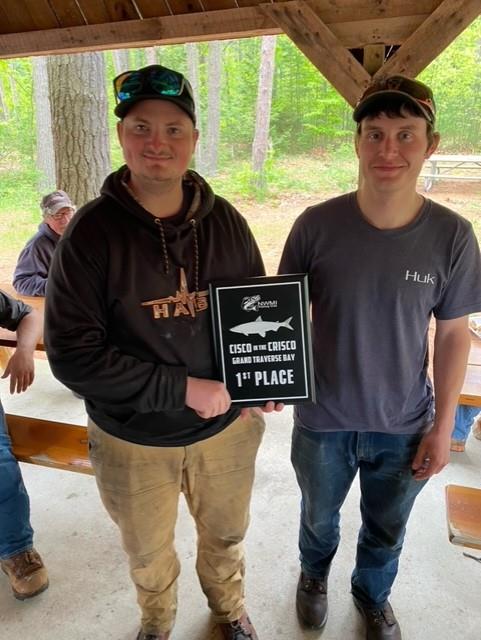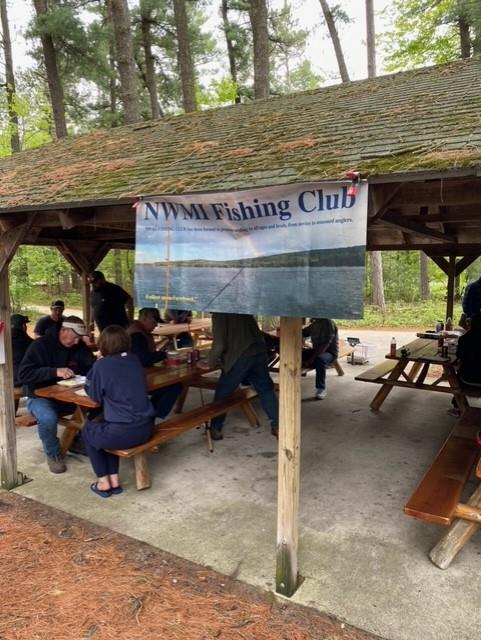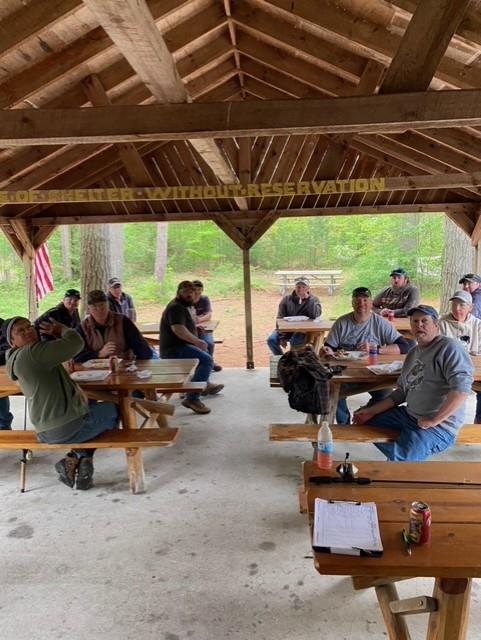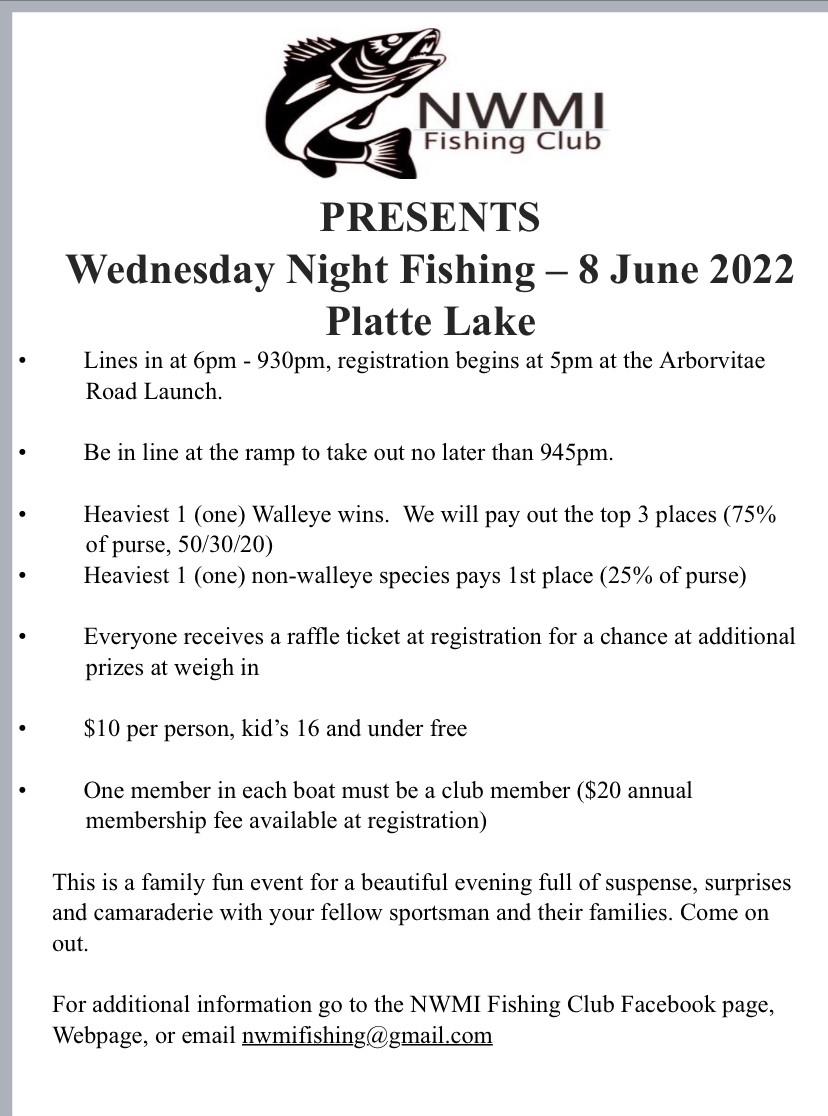 Today (Wednesday, 8 Jun 2022) We fished Platte Lake with a heavy turnout (29 anglers) in a spitting rain, for what turned out to be a pike-heavy night of fun.

The winning pike was a 9.65lb monster weighing a full 4lbs heavier than the next, garnering 1st place ($58) to John Ratcliffe, Mark Lauret, and Drew Dykehouse.

Only 1 walleye was weighed in, but it was a beautiful 21", 3.45lber, which accounted for the entire walleye purse ($174) to Team Twisted Dipsy (Tim Hossack, Sean Brunetti, and Paul Vitous).

2 new members were signed up tonight, as well as the film crew from the YouTube Channel "Fishing the 45th" creating great content as well.

Our schedule is jammed packed the next few weeks.

11 June we are at Lake Dubonette for a Kid's Day including lunch, giveaways, and getting kids out in boats.

15 June we are at Lakes Cadillac/Mitchell for another Wednesday Nighter.

18 June we are cleaning fish for kids at the Rotary Clubs Trout Event downtown TC at the Maritime Academy.

Come on out to any of these events and have some fun.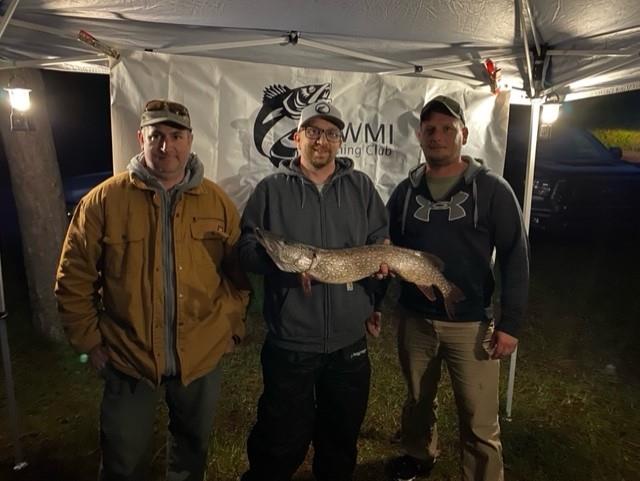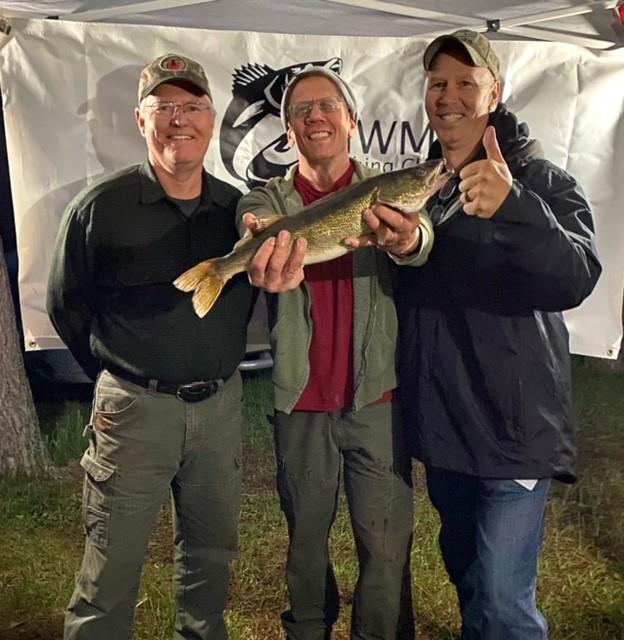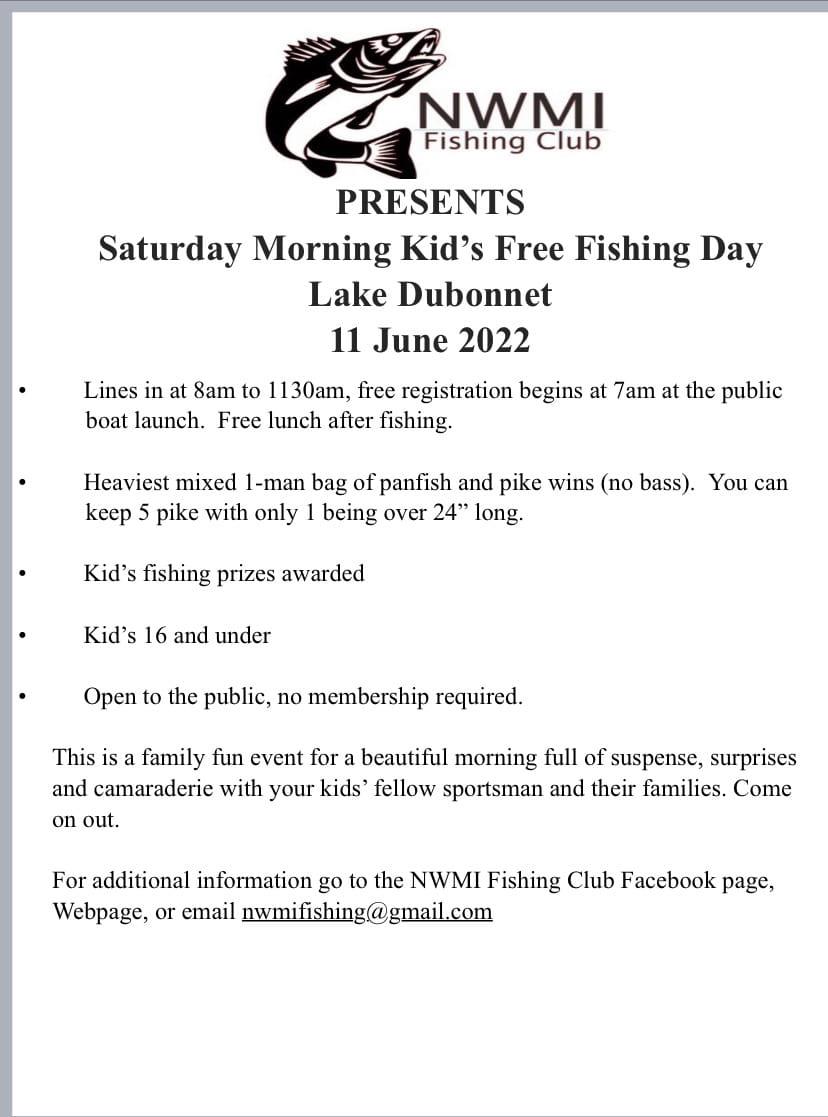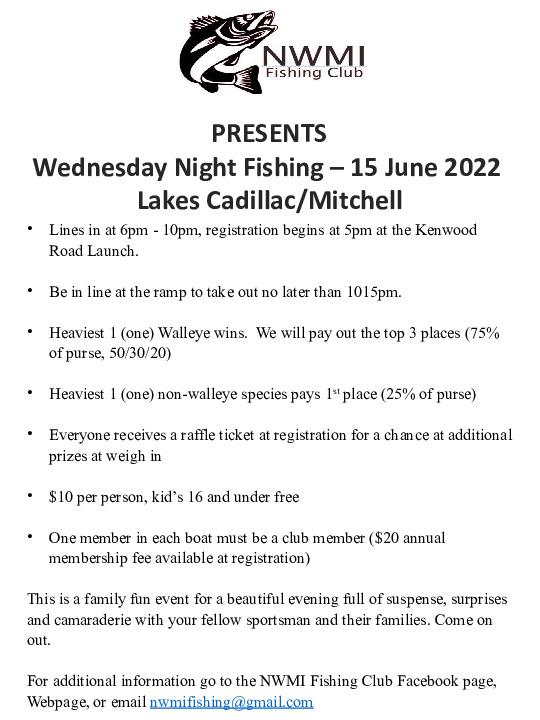 Cancelled due to weather.
Today the NWMI FC, assisted the Traverse City Rotary, with their annual "Kids Fish Free" day at the NMC Maritime Campus, they purchased 750 rainbow trout for the kids to catch, Buc's Bait provided the worms, we provided a fish cleaning station,...a GREAT time was had by all with lots of happy kids today. The North wind was a little chilly at times but was tolerable. This event is heavily dependent on volunteers to make happen and we couldn't be more thankful for their help today, Thank you:
Dionne Bellman
Spanky
Matt Marciniak
Ben Street
Tim Hossack
Chris Huttenga
Kevin Craven
Tom Walsh
John Ratcliffe
Chris Oossee
Mike Radcliffe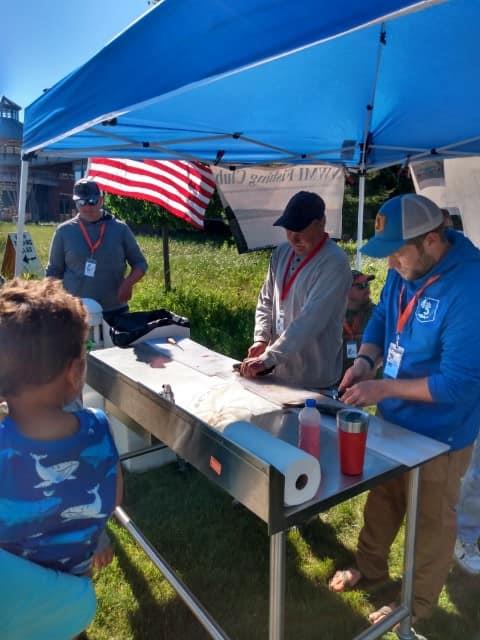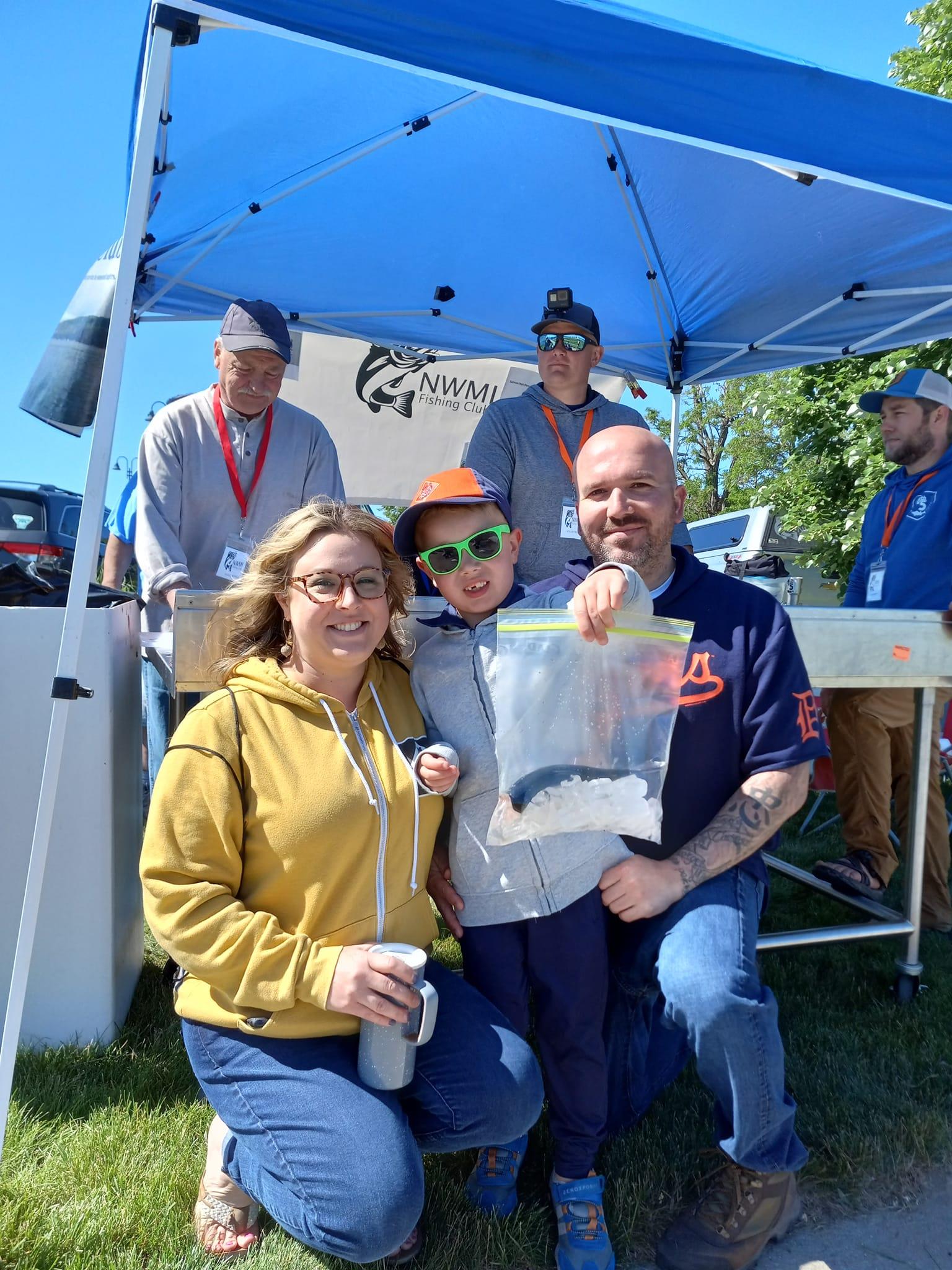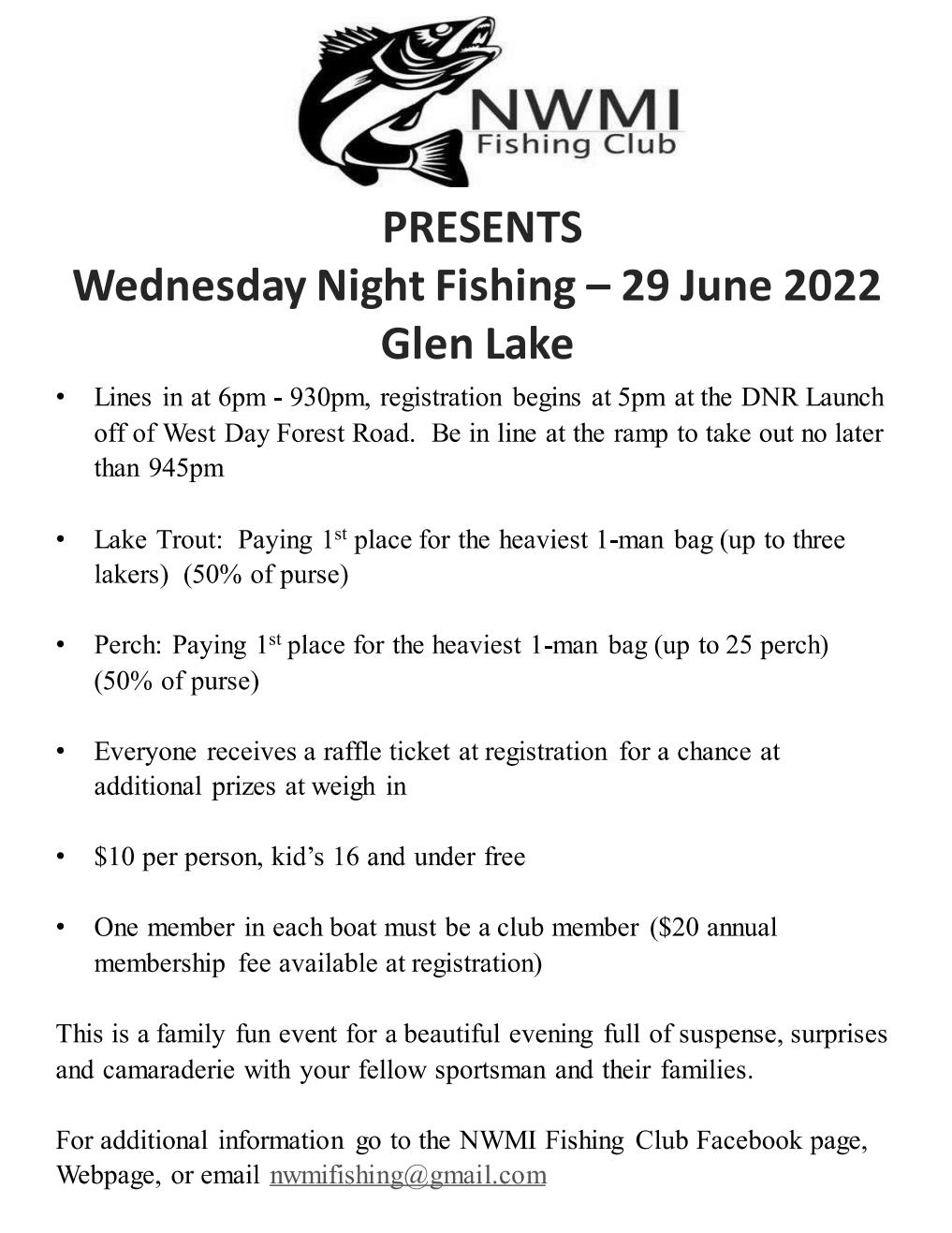 West Bay last night (22 June) was our biggest event yet. Great turnout with 16 boats and 45 fishermen.

12 lake trout were weighed in and only 2 cisco.

Lake Trout repeat winners were Brandon Aeschliman and Austin Scott with 2 nice lakers at 13.66lbs. They easily won, almost doubling the weight of the next closest team (Second Chance Fishing) with 7.05lbs. Brandon and Austin are the same Jabronies that won Cisco In The Crisco back on East Bay back in May. They took home $176. Nicely done again boyz!

Team Twisted Dipsy, the "most-consistently-winning-team" won the Cisco Division edging out "Team Fishing the 45th" with a heartbreaking beat down. Twisted Dipsy 3.08lbs vs 2.86lbs for Fishing The 45th for a $176 payout. These deep water technicians really have their game wired in.

Next week is Glen Lake, which was one of our bigger events last year will be spectacular. Heaviest laker and longest perch are the categories. Come on out and play!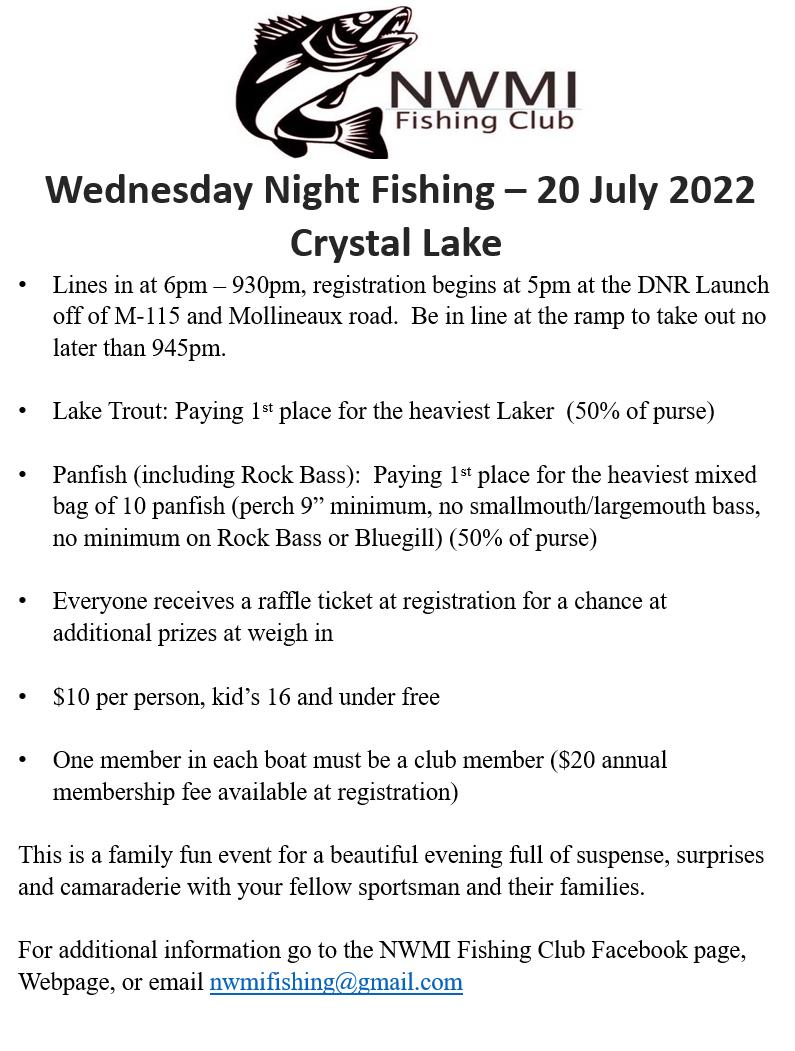 Silver Lake event cancelled due to weather
.

Last night was wild and wooly. The wind forecast of decreasing was absolutely wrong and increased. By the time we came in is was 18mph out of the SW with what had to be 4' rollers with whitecaps. Lesson learned...cancel early.
Anyhow, there were plenty of over-enthusiastic crazies out there like me. I keep good company. 66 fishermen in 20 boats is a new record for a Wednesday Nighter.
So this is what happened. The King is dead, but long live the King. Me, you know, being the King.
1st place - Team "Chasin' Dreams" with Rich Kerr, Jason Dobson, and Dave Martin. 48.95lbs for $528. This peachy team wears the Crown Royal. If you know, you know.
2nd place - Team "Fish Tank" with Evan And Tanner Kidder and Ethan Hromek. 43.35lbs for $316. The combined age of these 3 fishermen is right around 30 total years...compared to my team coming in at 200 years.
3rd place - unbelievably, went to Team "45th Outdoors" with Ben Street, and Chris Huttenga. They lucked into a few stragglers with 31.3lbs for $211.
Big Fish went to Team "Fish Faced" with Jake, Don, Jordan and Lane and lastly, very lastly, Charlie Woebbeking. A monster 28.9lber winning $380! Charlies' PHD from the Grand Rapids College of Common Knowledge paid off well.
A big thanks to Dionne Beelman. She was thrown into the booth guard (voluntarily I might add) and ended up scoring the biggest event ever in NWMI Fishing Club history. Thank you Dionne, you are hired.
A special shout out to Christine over at the The Tackle Box in Frankfort for the grand prize Raffle of a Tackle bag with a $50 Gift Card, Thanks again Tackle box.
Next event Silver Lake. A quiet calm summer time cane pole and bobber evening with a lemonade chiller will be well appreciated.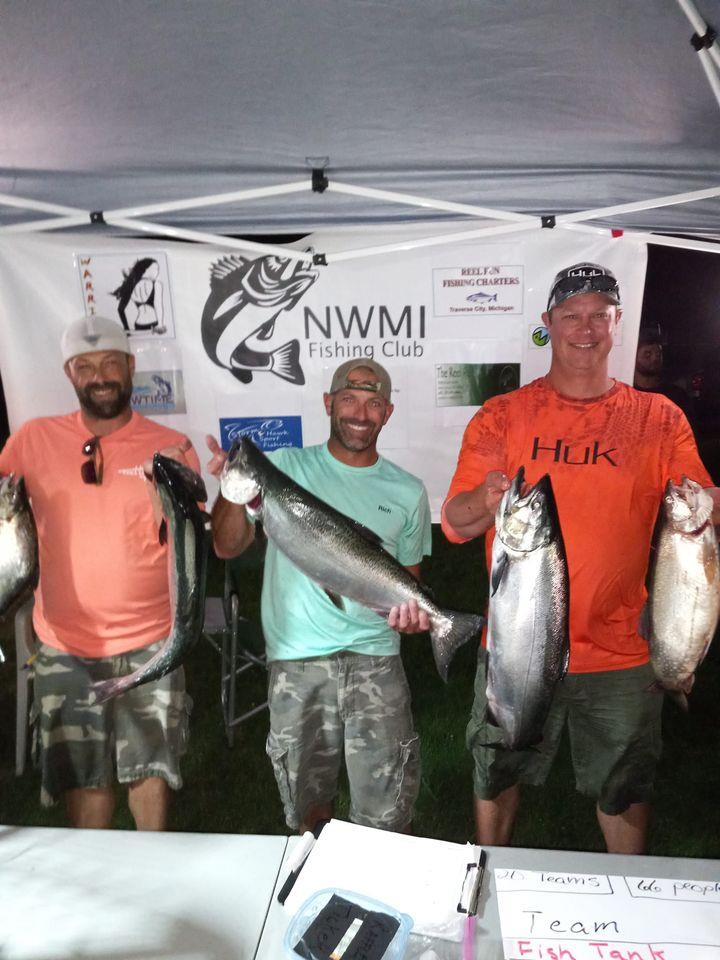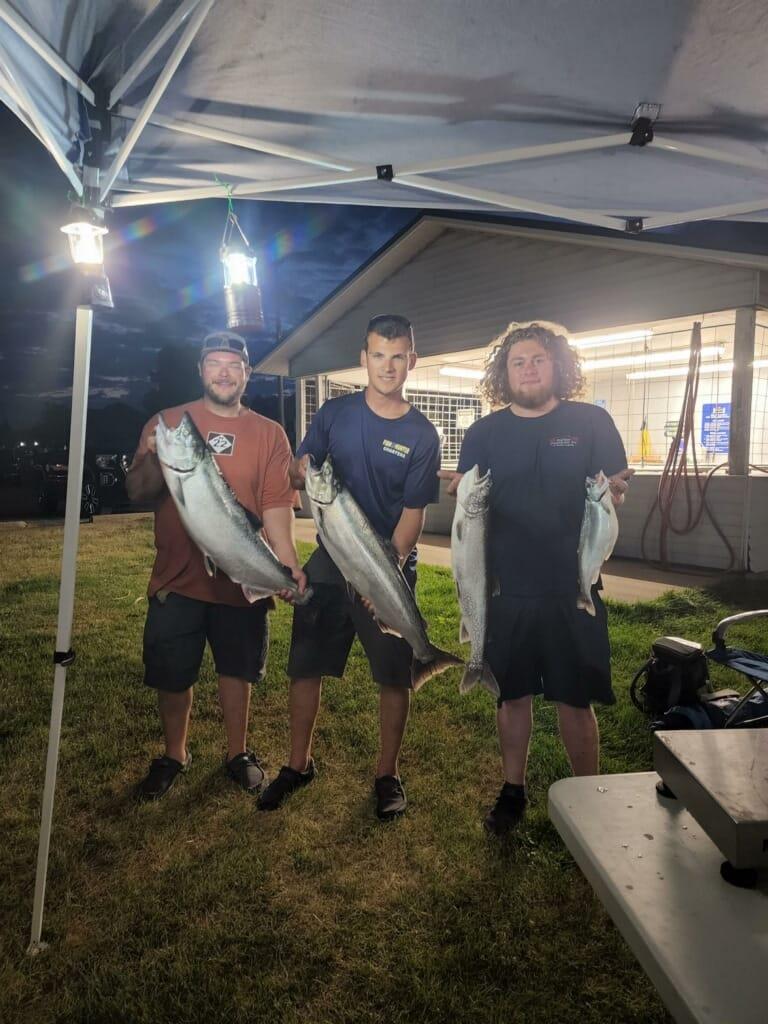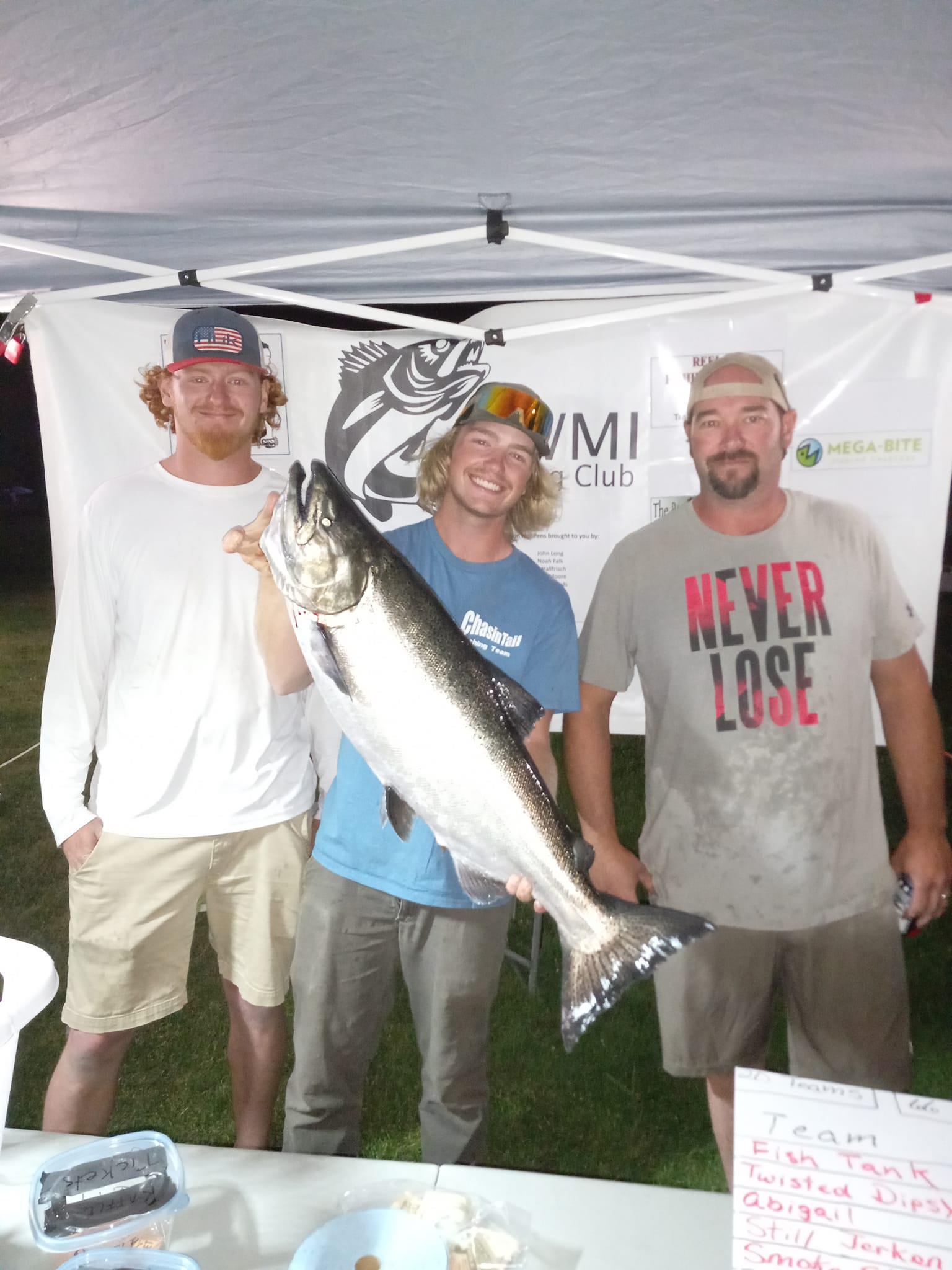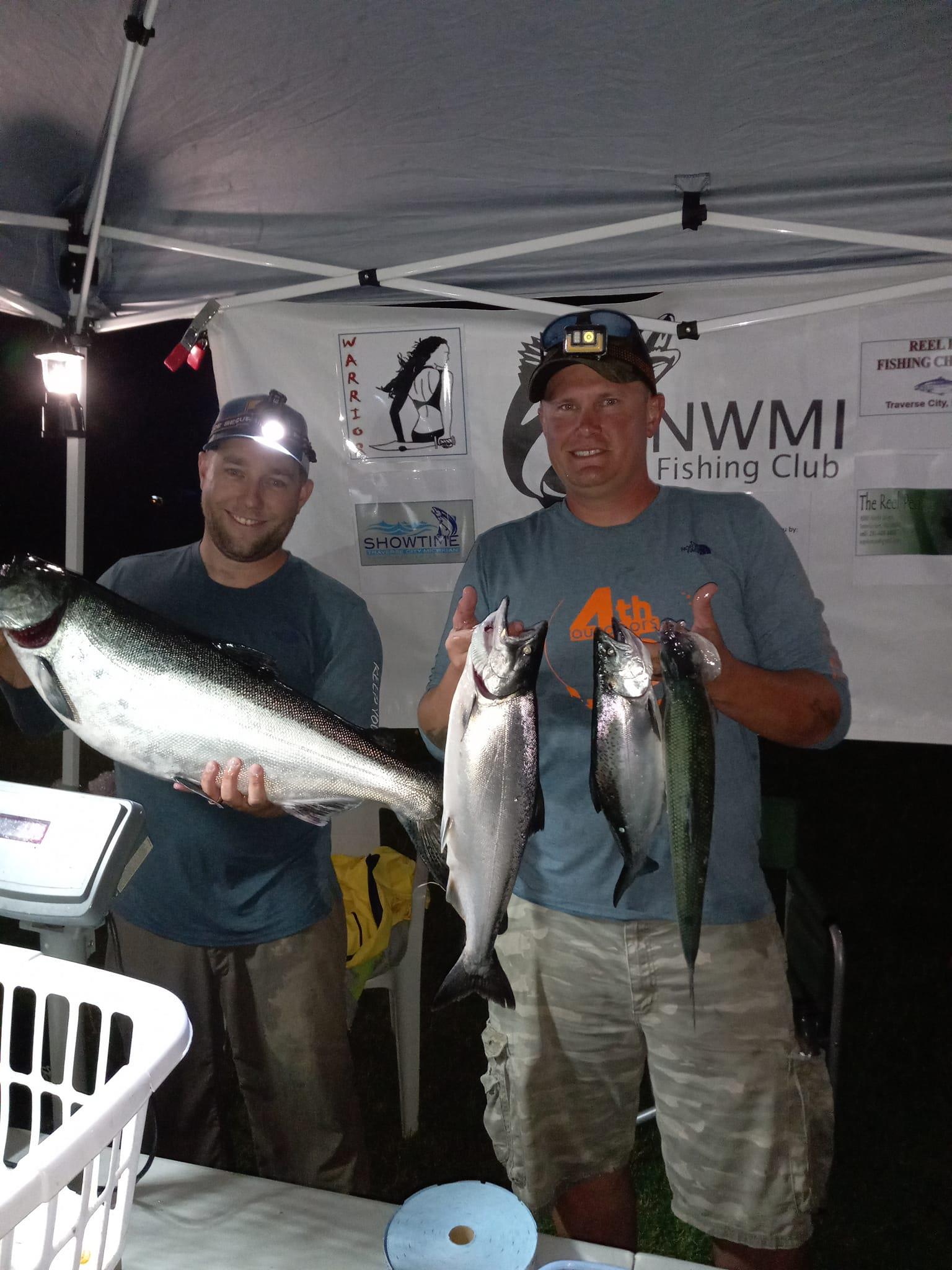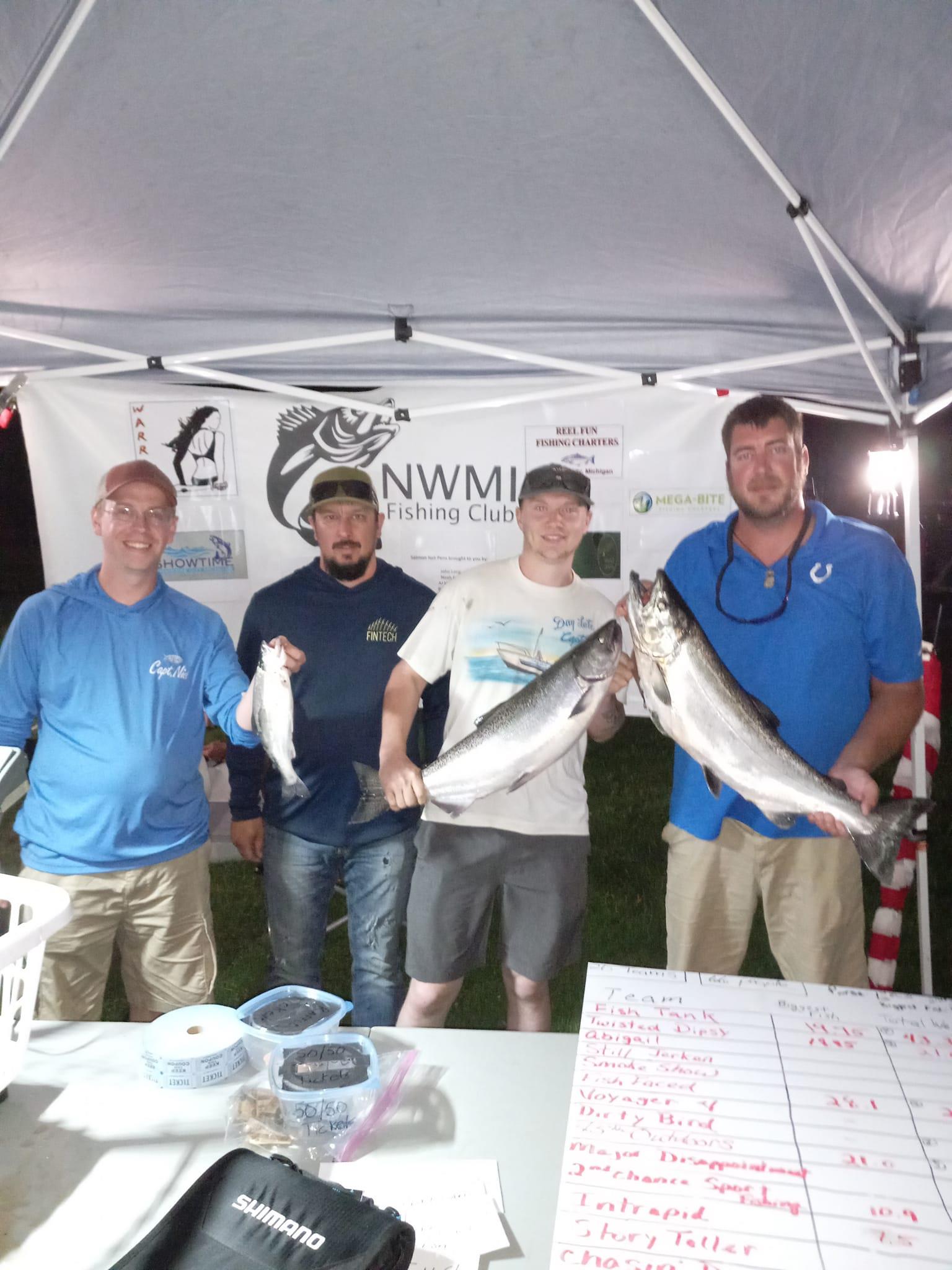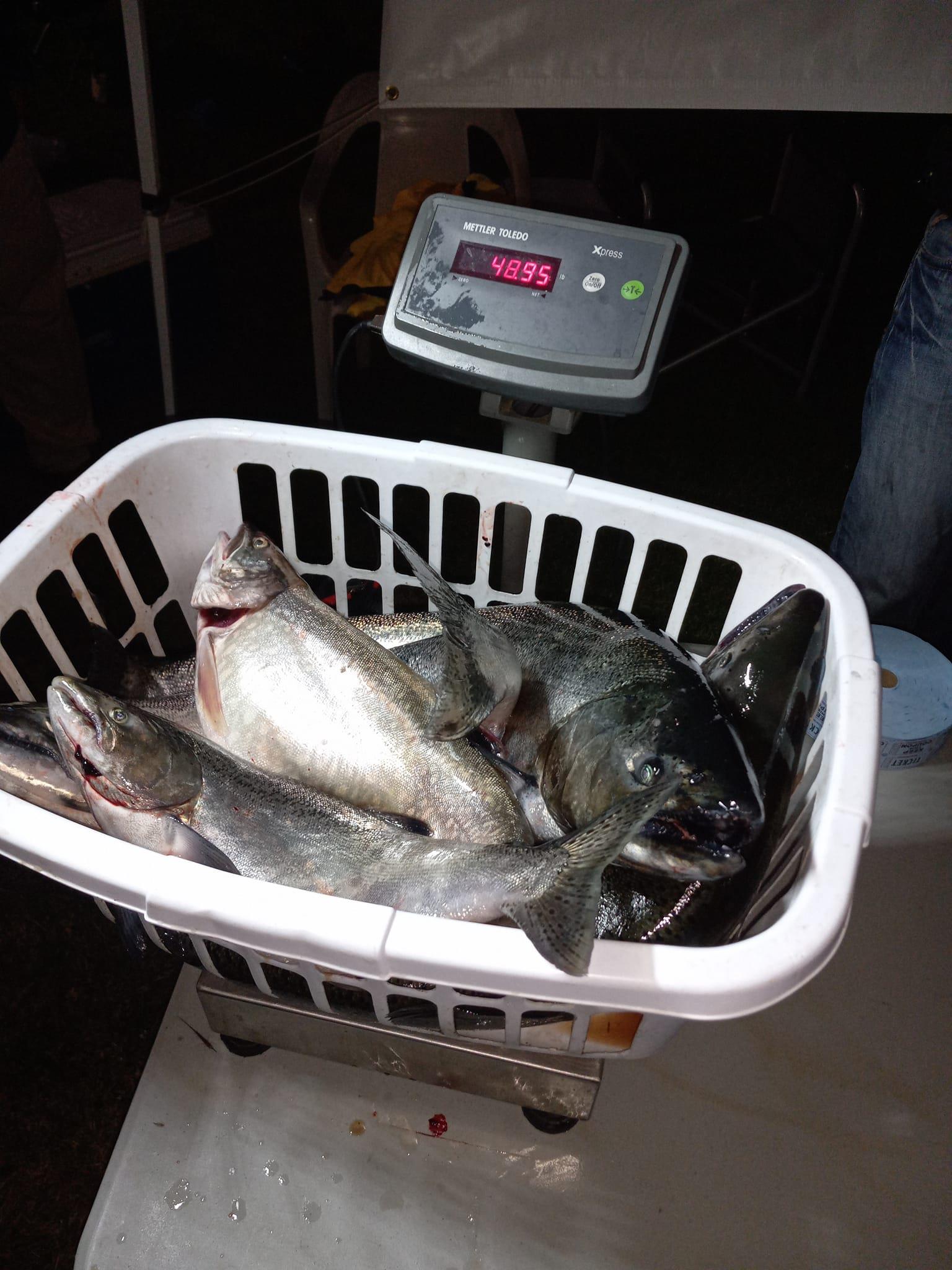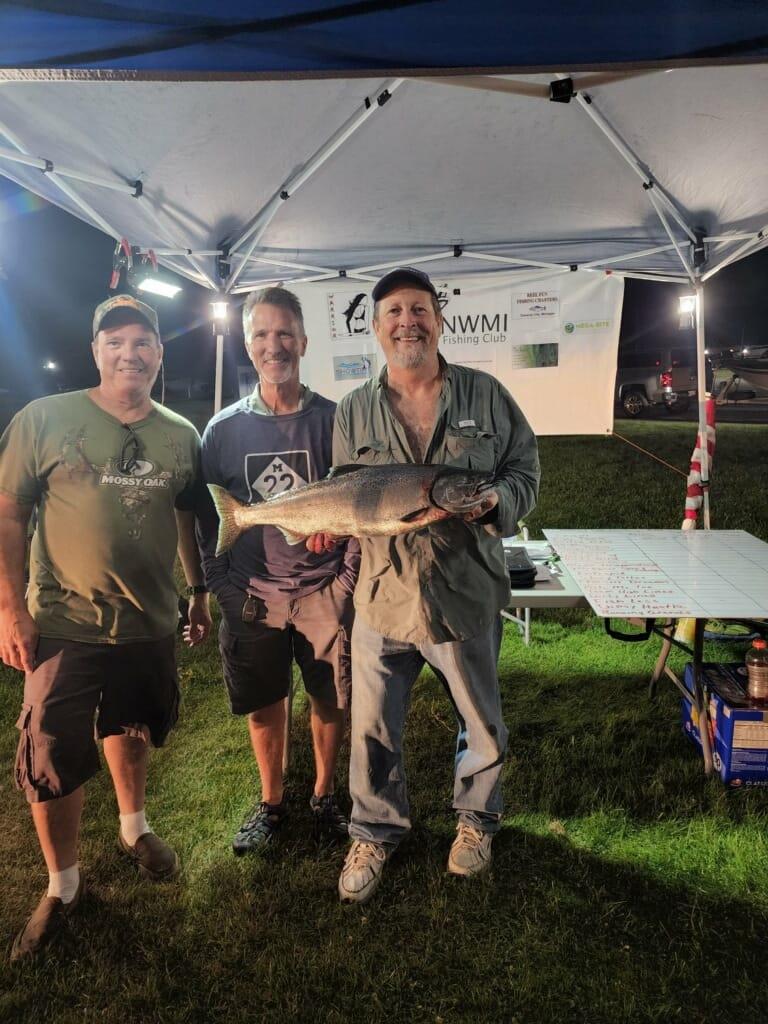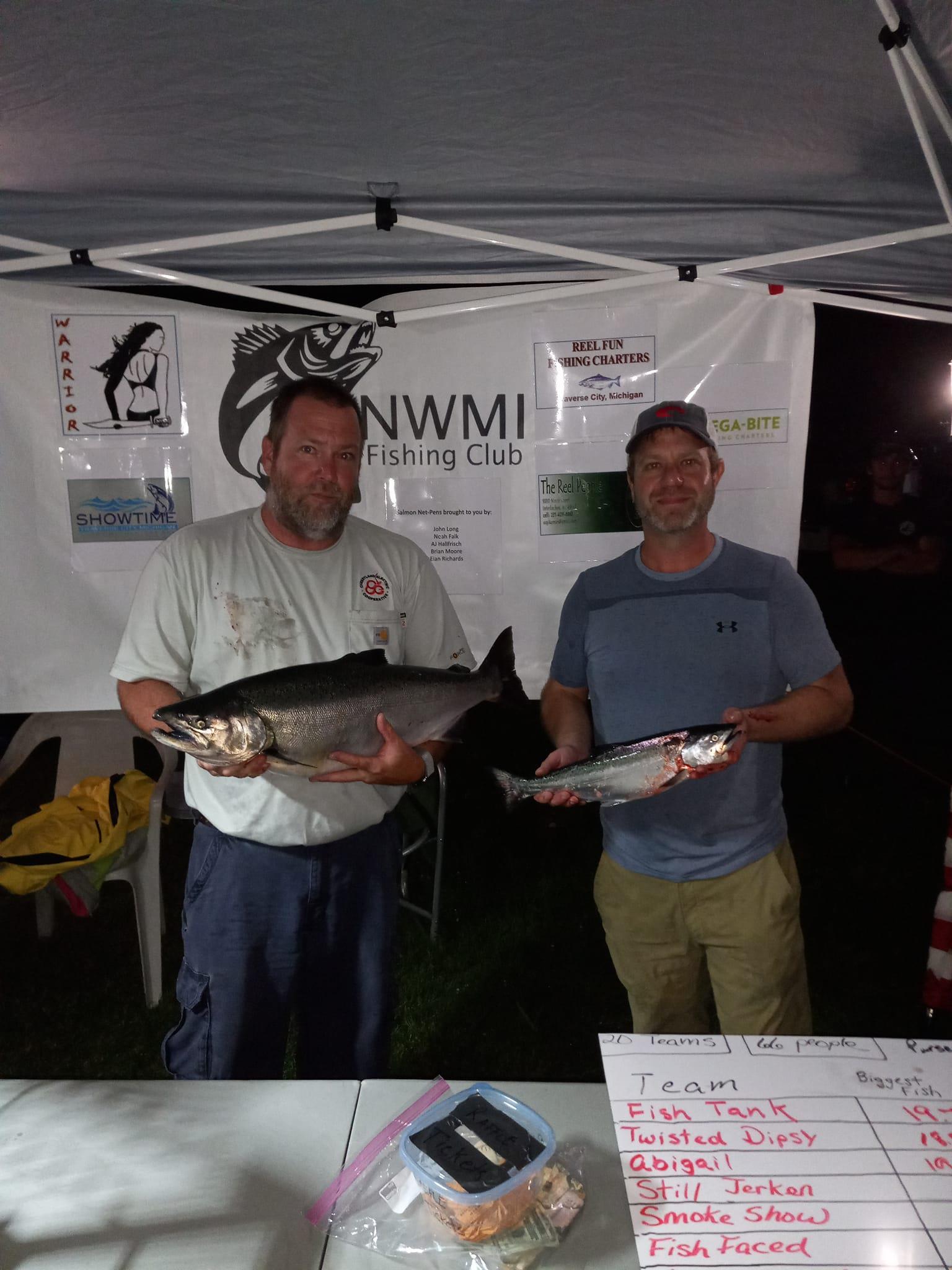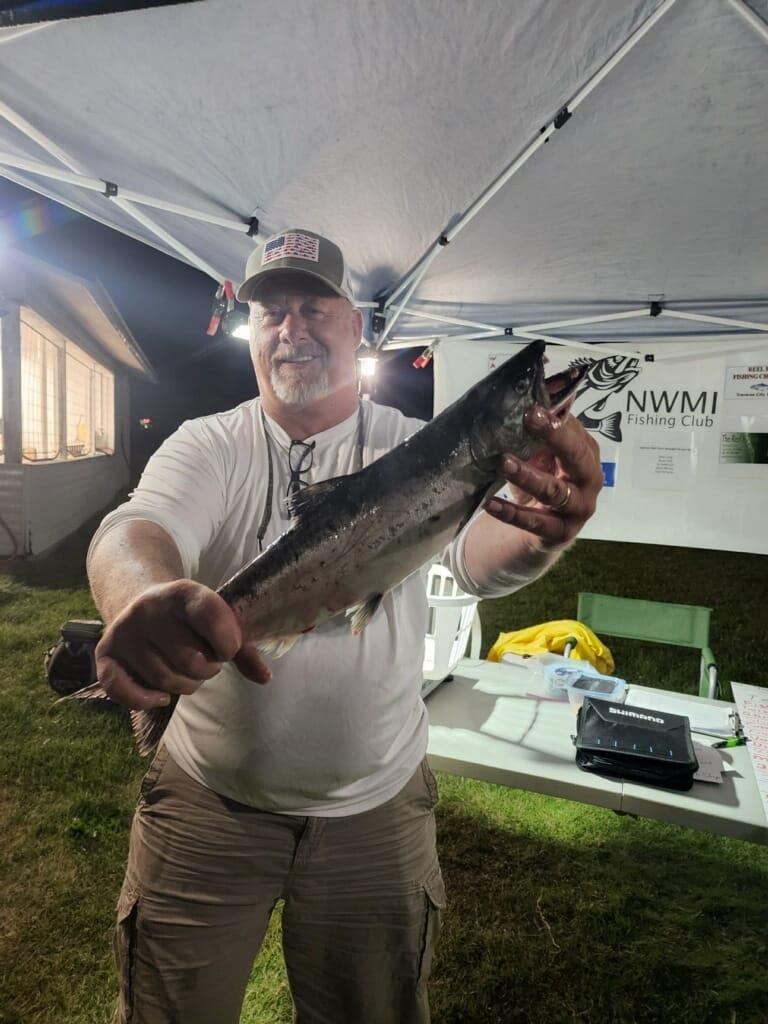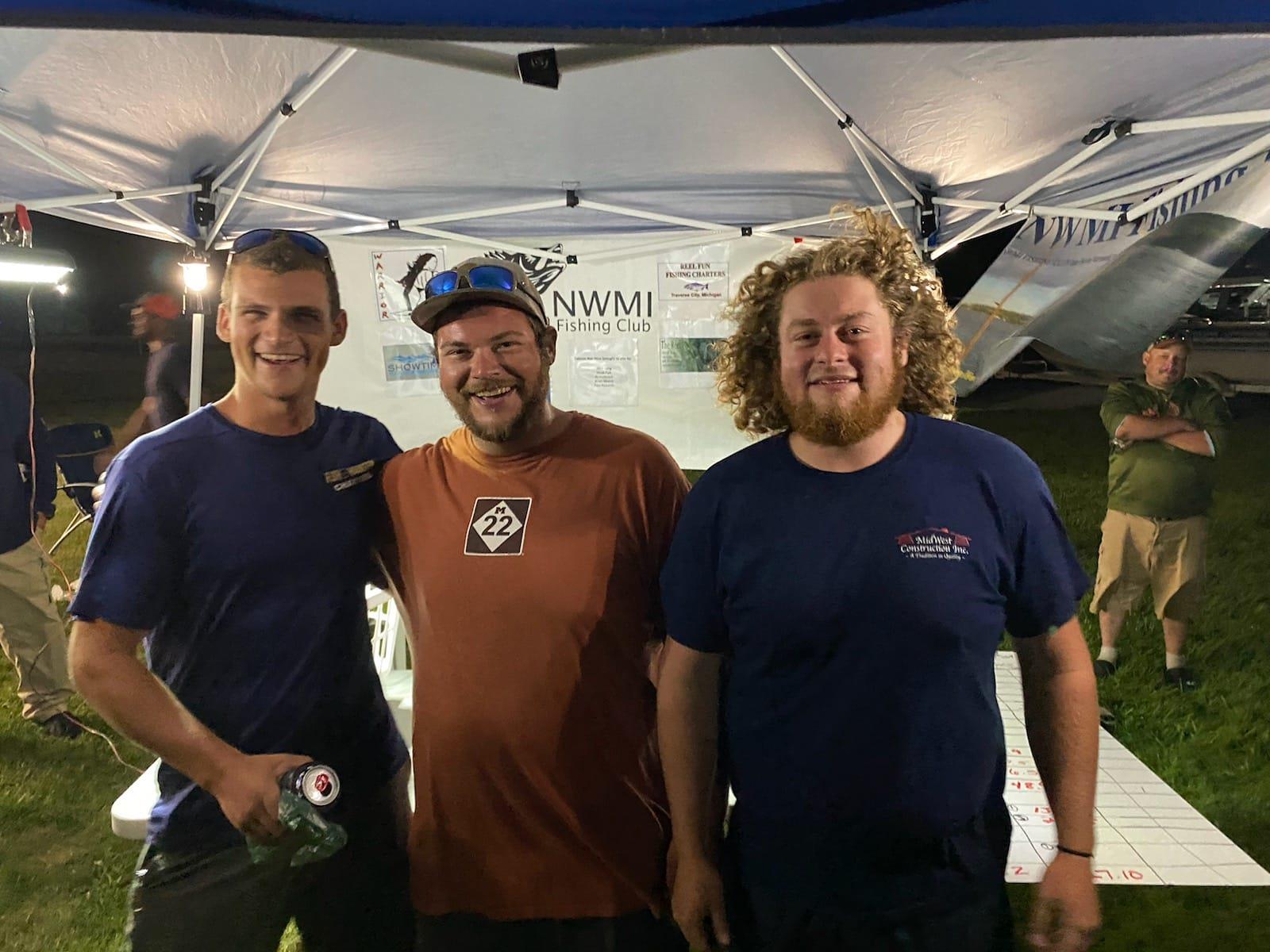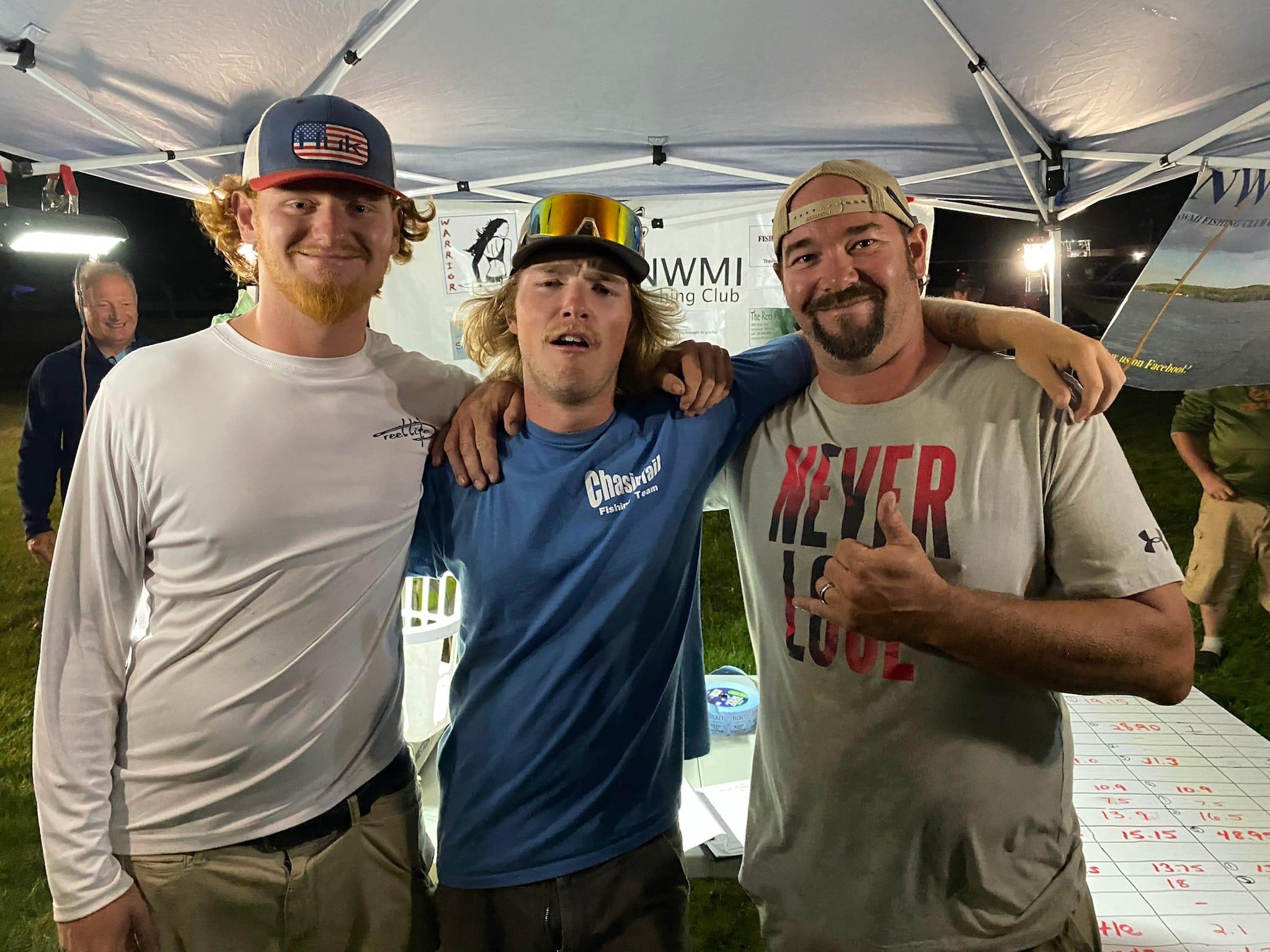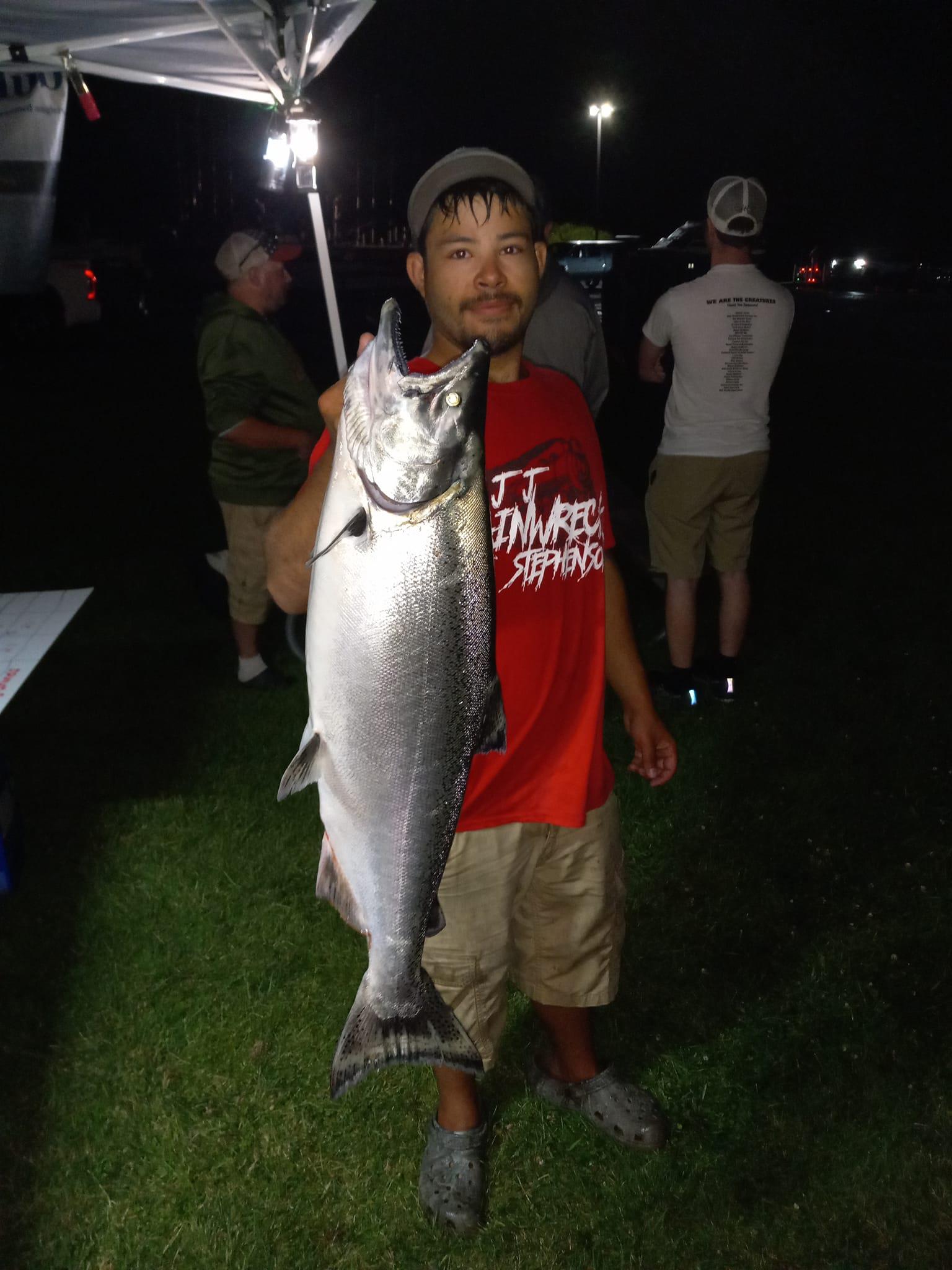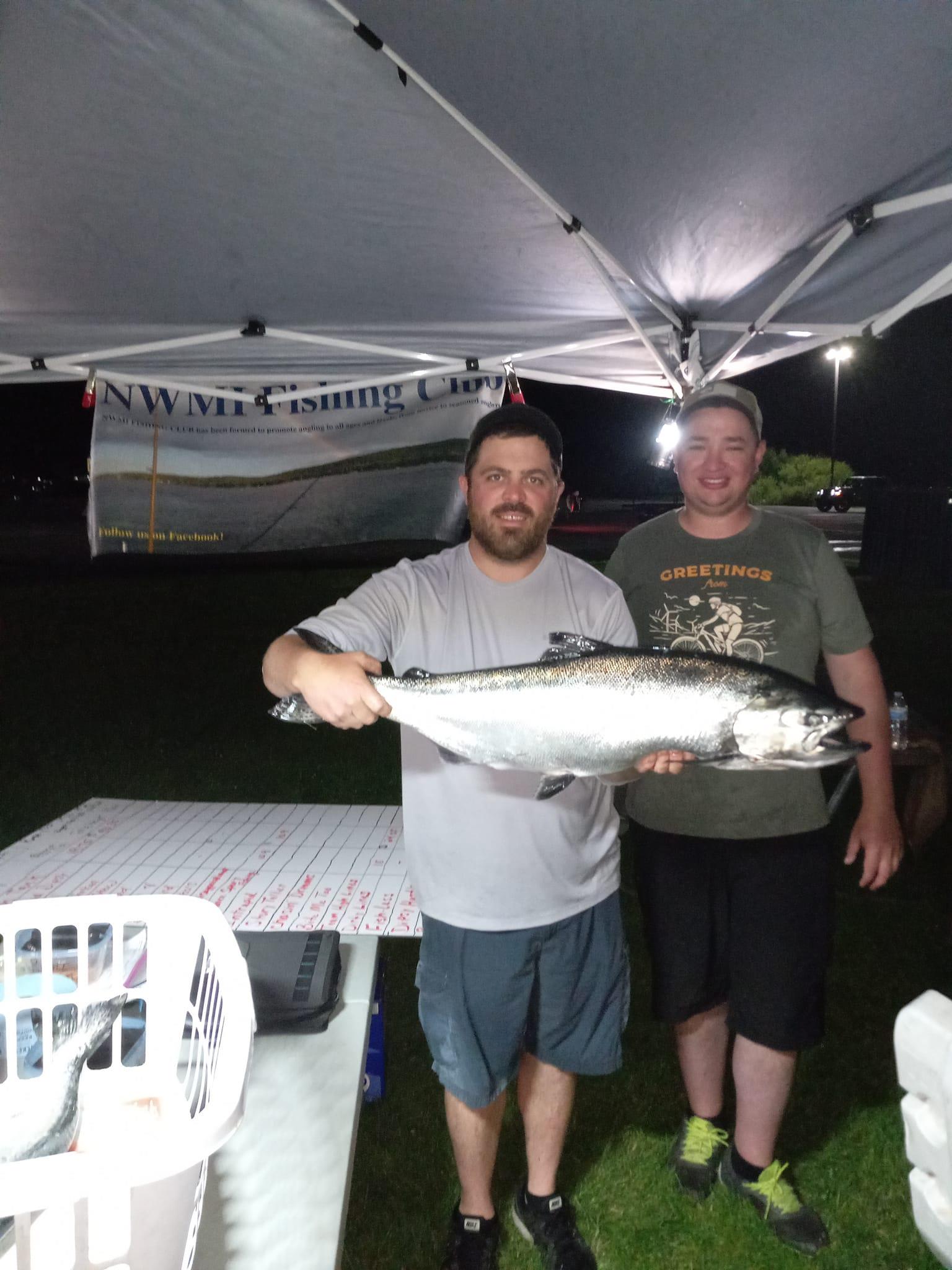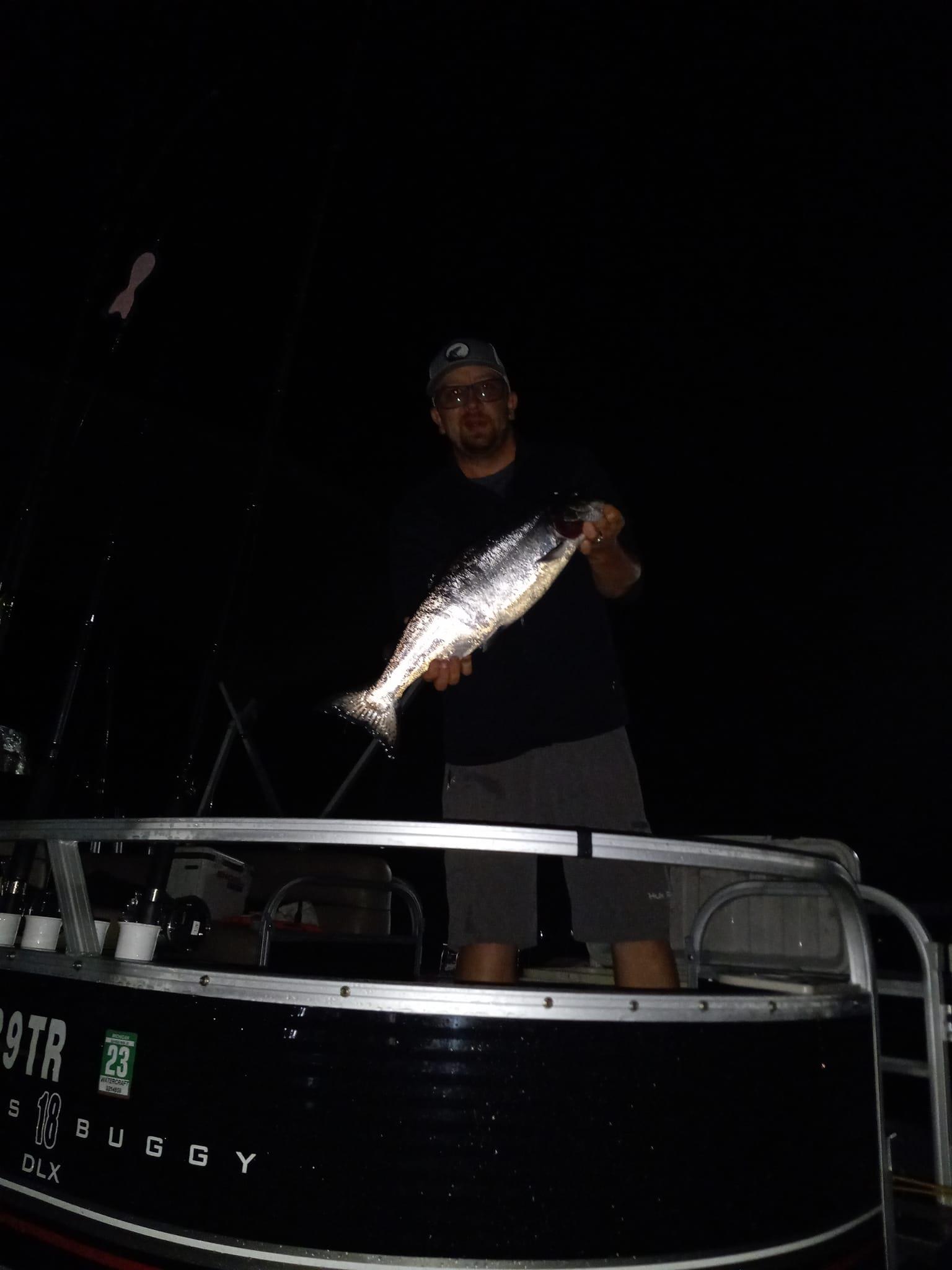 To any of our members, Monday morning, 0900 we will be meeting at the Silver Lake boat launch with tools, concrete, digging equipment and other supplies and putting in 2 light poles.

If you'd like to help, supervise, or meet some of your regular members come on out.

From Silver Lake, we will be moving up to Lake Leelanau (Bingham Launch) and doing the same thing. Pick one, pick both...come on out if you can.

Thanks

Tim Hossack
Secretary
The NWMI Fishing Club
(586) 219-1181
Foreman, Hard Hat Construction Crew and Lead Elite Supervisor (White glove only)